Description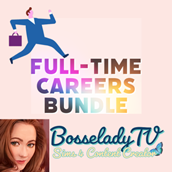 Full-Time Careers Bundle
This mod is very simple. It gives you 10 full-time careers for your Sims!
If you would prefer to download individual careers, they are available on CurseForge. Just search for the career you want!
What's Included:
This mod contains 10 Full-Time Careers!
Alchemist - from Sims 3 (requires Outdoor Retreat)

Ballet Dancer - from Sims 2

Circus - from Sims 1 & Sims 3

Equestrian - from Sims 3

Medical - from Sims 3

Nectar Maker - from Sims 3 (requires Eco Lifestyle)

Paranormal - from Sims 1

Private Investigator - from Sims 3

Show Business - from Sims 1

Sports - from Sims 1 & Sims 3
Addon (included):



The addon (requires Discover University) provides university degree level jumps for the following -
Ballet Dancer to level 7 with Fine Art degree

Medical to level 4 with Biology degree (no high school dropouts allowed in this career!)

Nectar Maker to level 6 with Culinary Arts degree

Private Investigator to level 6 with Psychology degree

Show Business Superstar to level 5 with Drama degree

Show Business Mogul to level 5 with Language & Literature degree

Sports Agent to level 4 with Communications degree
How to install:
Download and unzip the file (Winrar or 7-Zip are your best options).

Move the .package file into your Sims 4 Mods folder (Documents > Electronic Arts > The Sims 4 > Mods).

If a Mod has more than one version, choose only one version.

If a Mod has optional Addons, install them in the same way if you wish to use them.

Do not rename any files and do not install more than one subfolder deep in your Mods folder.
Mod support available on Discord: https://discord.gg/uF9WC8acuk