Description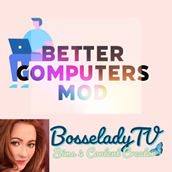 Better Computers Mod
With this mod, your Sims will no longer autonomously get on the computer ALL THE TIME!
I know I'm on my computer A LOT. A WHOLE LOT! But I don't want my Sims to be! And I especially don't want the neighbors, Father Winter, or the Grim Reaper to get on the computer EVERY TIME they come to my house!
This mod will make computers BETTER. It's difficult to keep Sims off the computer completely, but with this mod, it will be a rare occurrence!
NOTE: This mod requires only the base game.
How to install:
Download and unzip the file (Winrar or 7-Zip are your best options).
Move the .package file into your Sims 4 Mods folder (Documents > Electronic Arts > The Sims 4 > Mods).
If a Mod has more than one version, choose only one version.
If a Mod has optional Addons, install them in the same way if you wish to use them.
Do not rename any files and do not install more than one subfolder deep in your Mods folder.
Mod support available on Discord: https://discord.gg/uF9WC8acuk