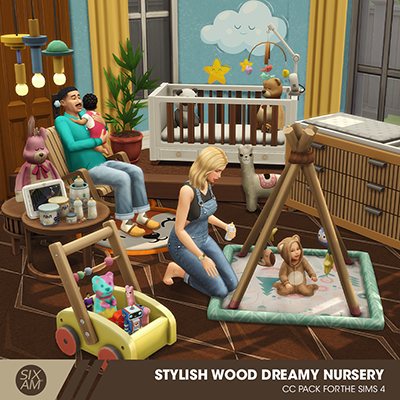 Stylish Wood Dreamy Nursery
Stylish Wood Dreamy Nursery is part of my collection "Stylish Wood" a set of furniture pieces that create a warm and inviting atmosphere for your Sim's little one. This time I wanted to create a range of wooden furniture items for a Nursery Room, including a sturdy crib, a modern bassinet, a comfortable rocking chair, a spacious changing table, and a dresser with plenty of storage.
The design of the furniture is simple, with clean lines and minimalist details that create a timeless look. The wood used in the construction of the furniture has a natural finish that adds warmth and texture to the room.
Also I added cool clutter based on some really good ideas my patrons had, like a Kit of formulas with baby bottles, diaper boxes, a baby monitor, a baby bottle warmer and more.
This CC Pack was a lot of fun to make and I hope you will enjoy it as much as I did. If you share your creations on social media, be sure to tag me. 😊
▶ ABOUT THE CC PACK
I created 25 items for this collection
Confort: Bassinet (works with the Invisible Bassinet Mod), 2 Cribs for Infants, Toddler Bed, High Chair, Rocking Chair (Requieres Growing Together EP)
Decorative: Baby Bottle, Baby Clutter (Dummy, Formulas, Baby bottles, Formula Cup), Baby Diapers Box, baby Monitor (Cam + Monitor), Bottle Warmer, Tons of Decals, Llama Plush, Rug
Kids: Changing Station (Fully Game Base Compatible), Llama Toy, Play Mat (Requieres Growing Together EP), Walker (Toy Storage Box)
Surface: Dresser
Special Items (optional): Baby Mat Override, Baby Bottle Override, Semi-Functional Baby Monitor Screen (This is an electronic photo frame. Drag your own photos of your Sims children into the object inventory. As a result, you can make them appear as a slide show on the "baby monitor". Requieres Moschino SP)
▶ PRO TIP
You can find all my CC or this CC Pack typing "SixamCC", "Stylish Wood" or "Dreamy Nursery" in the search bar in the catalog.
▶ MY SOCIAL MEDIA
Follow me on Twitter, Tumblr, Tiktok, YouTube, Pinterest or Instagram.
You can read my Terms of Use here.
💜Join my Community Channel on Instagram here.