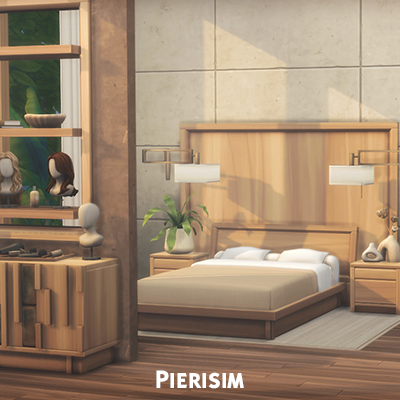 Pierisim - MCM Part 5 - The Bedroom.
Description
MCM House part 5 !
It concentrates on the bedroom. It's composed of 46 new items, with few modular pieces like the walking closet, the accent storages and the fabric headboard! Also, I know some of you were waiting for them, the wig from the Extravaganza collection are coming in this set! 😁 I've tried to add a few clutter pieces, and also some special vases for a very dear friend in this community!
Just to let you know that the walking closet and clothes, even if the clothes are recolor of dream home decorator, is basegame compatible!
Note that you will need to active MoveObjects to put each walking closet pieces side by side because i didn't manage to fix the footprint to have it working without cheat code.
You can find the items by searching for MCM or Pierisim in game.
Some items share the same textures so make sure to have the packages finishing by "texture" in your mod folder :)
All base game compatible except the vanity table that requires Vintage Glamour pack