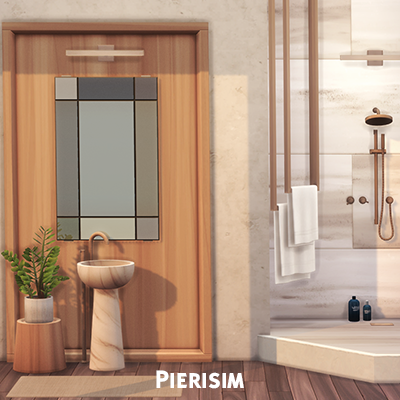 Pierisim - MCM Part 3 - The Bathroom
Description
Here we go, the MCM extends to the bathroom, with 35 brand new items! 😀
The main character is travertine! You will have a brand new travertine flooring, wallpaper, a hanging sink with a seamless extension. The point was to create long sinks and as much sinks as you want with accent extension, perfect for restaurant bathroom for example! You will have three new mirrors make for those sinks as they have the perfect size to be repeated "seamlessly" too!
You will also have two travertine accent tables meant to go along the wall! One has a little hole to clutter with the new collection of cosmetics, inspired by the brand Horace.I also wanted to add the standalone marble sink which is also coming in plain swatches! The plain swatches are the same for the bathtub and the toilets so you can match them like you want! 😀
Among the other items coming with this set, you will have simple glass dividers, in 4 heights. I really missed having a single glass to divide a shower or any room! It's very versatile! Oh and also a new toilet paper roll 😂.
You can find the items by searching for MCM or Pierisim in game.
Some items share the same textures so make sure to have the packages finishing by "texture" in your mod folder :)
All base game compatible except the shower that requires University