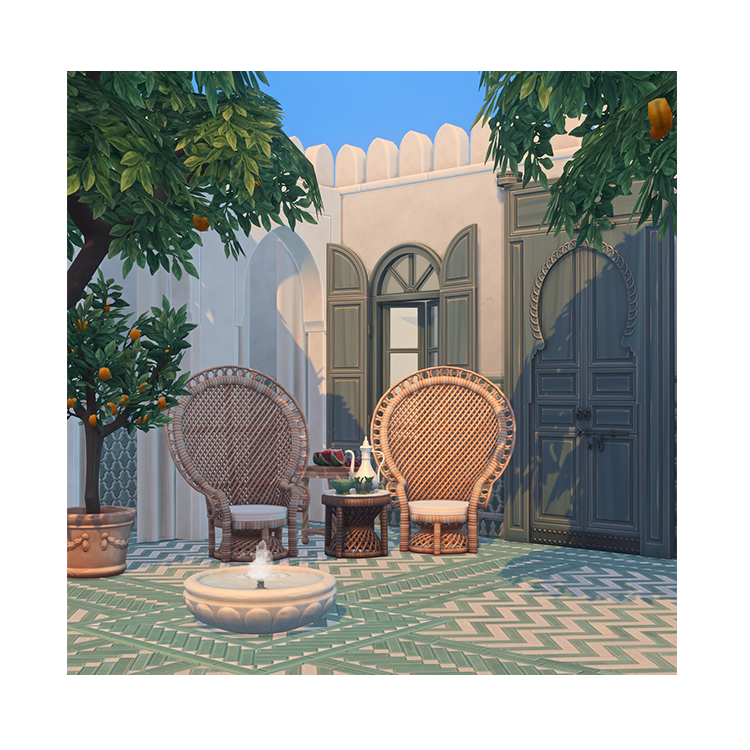 GROVE Part 4
Description
It's been a really enjoyable journey with the Grove Set and I am happy to present you with the 4th and final part of it. The Grove Set Part 4 is a 74-piece collection of items centring around windows, doors and courtyards.
Windows and Doors: I discovered this beautiful riad called 'Riad Tarabel', I was mostly inspired by their windows, doors and their colour palette. The glass doors and windows come in 32 swatches, 14 of them have distressed on the edges and I think they look quite charming like that. There will be a Moorish door (closed, open and as shutters) and two interiors double and one single door. For this month I created open windows to give your builds the extra lived-in feel :)
Shutters: We are in the Mediterranean and there needs to be sun and heat protection ( wish I could say that about Germany :D) and I created 18 shutters with18 distressed colour swatches for that.
Curtains: Now the curtains are a bit special because THEY ARE ANIMATED :D they work well with open windows or for your outside patio areas. All 3 wall heights are covered plus there is an extra curtain rod for an extension.
Plants: I wouldn't do the name 'Grove' justice if there wouldn't more plants. One thing I like is citrus trees and why not make one myself, I already wanted that for Grove part one but I ran out of time. There is a potted version a free-standing one and one that has lanterns hanging from its branches and not to forget I made a potted cypress tree:)
Rattan Furniture and Clutter: A big key point this month is the Peacock chair. For a long time, I wanted one for the game, but I felt my skill level is not quite there yet. This month I tried it again, it was tough but it worked out exactly as I wanted and now I have a peacock chair in my collection. There will be a rattan end table which you can decorate with either a tea tray, melon board or a straw hat:)
Pools and Decorations: I must confess I don't like The Sims pool waters they are either too colourful, busy or too grey. I made 4 different tones and picked colours from the sea in Tartosa, which is just so beautiful. I created two pool trims one in plaster/ stone and one in the pattern of the tiles from last month, these are objects so you can place them as floor trims anywhere. I was working on more decorative pieces for your house, two types of castellation and a Chimney inspired by Andalusia and let's not forget the arched pediment, gosh I love pediments :D
General: I have started sculpting details which you can see in my fountains and generally handpainted more details on my pieces. I hope I can broaden my abilities and bring you more creative, detailed and diverse content in future, I love nothing more than diving into different worlds and atmospheres, it's like travelling in time and space and I hope you can too with my sets.