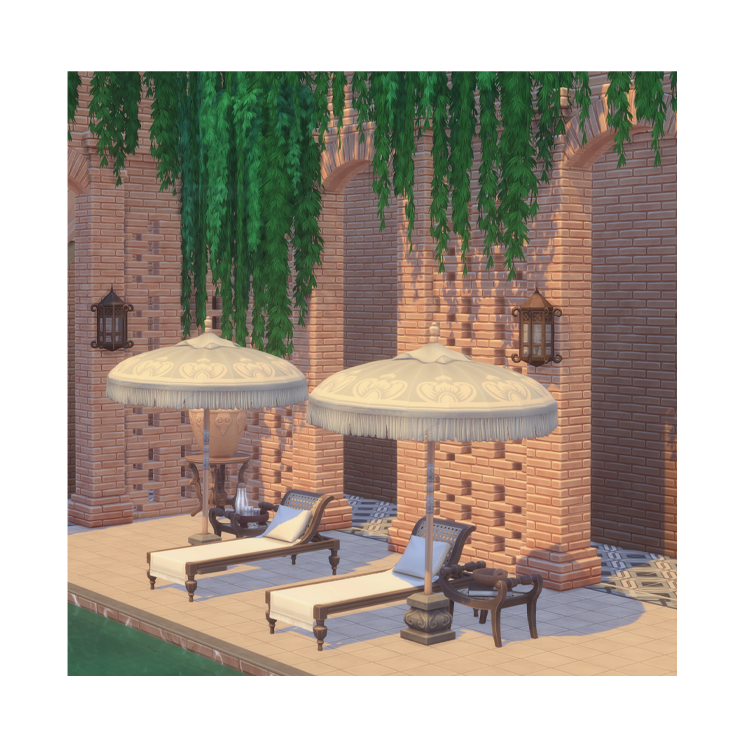 COLONIAL Part 3
Description
The time has come, I settled into my new apartment and finished the newest items. Again I concentrated mainly on building items this month except for two plants, pots, and a Balinese parasol. The columns, fences, spandrels, and railings are functional and cant is found by typing in *colonial or *felixandre, I added my icon so you can find them easily in the build catalog. I added plaster and brick walls, and also two different types of foundations in all the usual color swatches, ( they will match my other content too. Additionally, you will get trim details that can be placed on the walls for a continuous look. I hope you enjoy building with them as much as I do I can't wait to see how you use them :)
Happy Simming and Thank you so much again,
Felix
Now a bigger update: I added another image to show you more of the upcoming content. I mentioned that functional columns, spandrels, fences, and railings are a new area for me and I felt that most of the past days when I started doing the color options. Creating the swatches in Photoshop is the same as usual but bringing them into the game takes way longer than I ever expected, in a nutshell ... I am late and couldn't stick to my schedule :( on top of it, I need to stop working on the CC for a few days because I am moving into a new apartment and need to organize and pack everything. I don't think I can share the new content before the 5th of July, Thank you for your patience I will do my best to finish them as quickly as I can
p.s. I went through your lovely suggestions and decided to add plants, of course, railings, a new floor, wallpapers, and foundations to the party :) If you are patient enough I could try and add some trim objects, but only if time allows it!
Just a little update: I added another picture to show you the brickwork in the game I added a seamless window as well. Thank you for all the suggestions! I am quite interested in doing a few tropical planters with lipstick palm trees and some fern which I will start today :)
I have some exciting news, at least exciting for me, finally, I managed to create functional columns, spandrels, and fences. Above you can see my first attempts, they will be part of the Colonial set and so far I decided to create items in brick and plaster. I mainly got inspired again by the Indochine style you can see at the Raffles Hotel in Singapore and buildings in Luang Prabang in Laos. I am planning to work on a few wood items as well. By the way, a fence and spandrel have 19 meshes, I think I created around 90 meshes already :D.
I must say this whole new category of content is a bit overwhelming and I am getting a bit lost within this month's theme. Additionally, I am moving into a new apartment beginning of next month and I am running out of time to create everything I want.