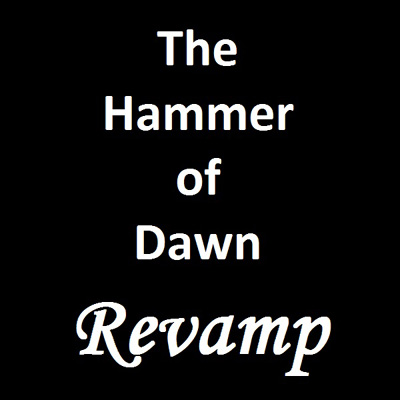 The Hammer of Dawn [Revamp]
Description


The Koprulu sector.
At the heights of Amon's war.
Casualties from all side are countless.
What is left of the military are being pulled back to protect major cities.
Leaving the smaller backwater colonies and cities to fend for themself.
At the time mercenary had become high demand high paying occupation.
This is the story of mercenary team number 252.

The Hammer of Dawn.
Introduction
This is the revamp of the classic Hammer of Dawn
Q : Why revamping the classic Hammer of Dawn ?
A : I was re - watching everyone HoD youtube videos
[DeltronLive , Redler Red7 , JayborinoPlays , MasterKD ]
and the translated into Chinese version of Pareto optimal RUC when it hit me.
Should've done it like this, it would look better if I do this, ohh there is a bug there etc.
You know what, I am going to fix that, revamp that.
And here it is.
Q : What changes from the classic ?
A : Portrait update for Kyra Han, model update for Ben Ar, Radamantis, bosses.
Improve A.I for the mission and the Boss.
Difficulty adjustment, received discord message[s] that casual is still very hard.
Heroes skills adjustment.
Small to Major revamped of the terrain and doodads.
Small to Major change to banters on various maps.
Add Cinematic maps , a Prologue, an Epilogue and many other things.
Features
Take command of Captain Kyra Han and her Hammer of Dawn Mercenary.
Divided into 3 chapters, with different terrain and environment.
Focus heavily on RPG element and engaging story telling.
Boss Battle for each mission.
Custom models from fellow mapsters (see credits section for more info).
Three difficulty option to choose from. Casual ,Normal and Hard.
Missions
Prologue : Last Day of War
Cinematic : Home Sweet Home
Mission 01 : Temple of Doom
Mission 02 : Maze Runner
Mission 03 : Cradle of Life
Cinematic : Vision of Future
Mission 04 : Paradise Lost
Mission 05 : Dead Marshes
Mission 06 : Last Remnant
Cinematic : After the Storm
Mission 07 : Welcome to Hell
Mission 08 : Gate to Eternity
Mission 09 : Into the Void
Epilogue : Remember Me
How to Play
For those having trouble, Hockleberry made a step by step tutorial on how to, get it here :
How to play Custom Campaign Guide
Requirement
StarCraft II Legacy of the Void.
Don't forget to turn subtitle and TIPS on.
Feedback
Help to make The Hammer of Dawn better.
Custom Campaign Initiative
What is the Custom Campaign Initiative?
Custom campaign in Russian
For those interested to play the custom campaign in Russian
Credits and Special Thanks
In no particular order !
StarCraft 2 model / icon / map creators
- Kazor132
- Cacho56
- FunkyUserNarr [ I can't find his project page anymore ]
- VastanX
- thor1112
StarCraft 2 Videos Playthrough
- Palnai
Hammer of Dawn Classic
Here is the link to the Classic :