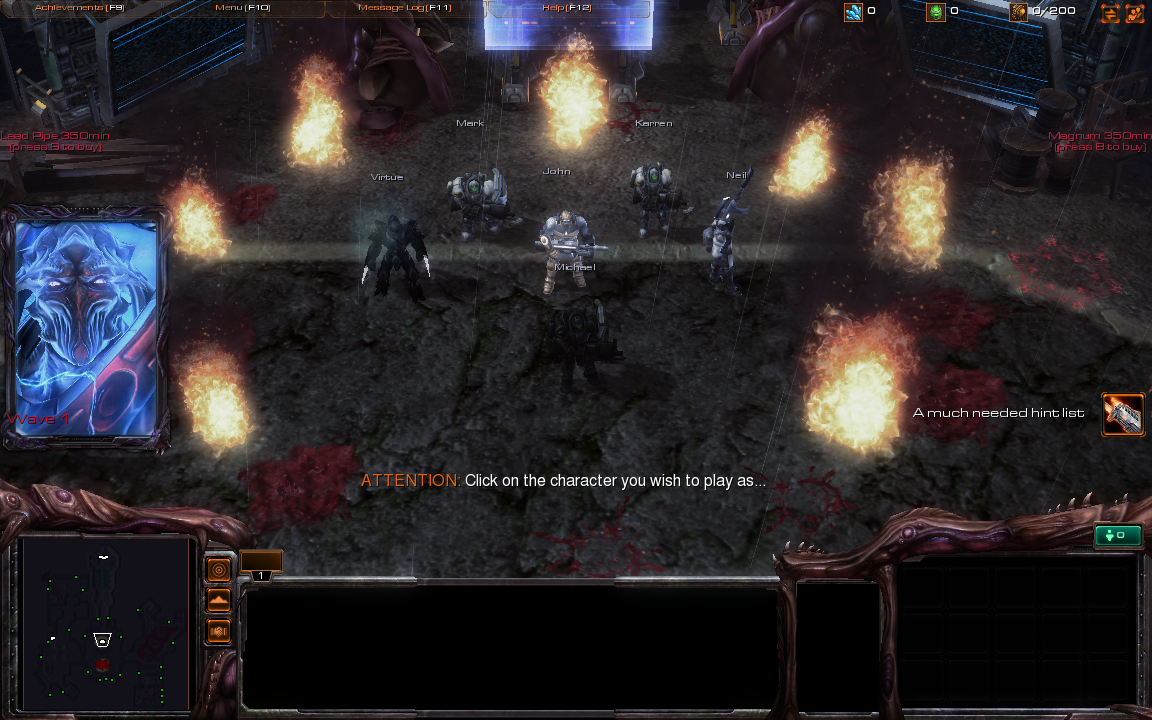 Naz^zombies: the void
Description
(the two links above are for basic gameplay vids before the update... they lack all of the new features, but summarize the gameplay [tutorial])
NEW VIDEO LINK: this vid contains all of the new updates
you choose one of six characters (for six players) and survive against waves of zombies and demons by purchasing weapons, opening doors, using teleporters, perks, and powers
UPDATE (because this is a very very vague description): there are 14 weapons, and the list is (1) starting weapon that varies with each character (2) lead pipe (3) magnum (4) FAL (5) shotgun (6) ACR (7) grenade launcher (8) raygun (9) chaingun (10) fury blade (11) bazooka (12) wunderwaffe (13) AA12 (14) nova
there are also two powers, two perks (upgrades) and purchasable claymores/turret ammo. I downed the cost of claymores and upped the amount of money per kills, making the game easier
i fixed the bank system so that your kills are stored and you can claim those shiny starting minerals with time :D
the amount of zombies that spawn is determined by how many doors you open... every door sets off more spawn points within the area
hell hounds spawn at waves 10, 15, and 20, and they spawn every so many seconds for a set period of time... and they eat your face... a lot... :D
speed boost (a perk) does not only upgrade your movement speed, but it upgrades your EN regeneration
the wunderwaffe costs 3 energy to fire, as it's very powerful vs. swarms of enemies (it launches lightning that bounces from unit to unit as long as the units are in a conjoined cluster)
all of the characters have their own specialties (health, shield, armor, speed, EN/life regen) and these specialties are listed on the help tab
the boss of the game is on wave 30... and it's a very epic fight with good, detailed programming
CHANGES:
i added the box (random weapon shop, just like in call of duty: nazi zombies)
i added vehicles that you can enter/exit, and they can run over weaker enemies, although it's not recommended to run right into a crowd
i fixed up the terrain on the lab section to the left of the start zone, to make it look more natural
UPDATE: i added two upgrade tiers for the auto turrets. they basically change the appearance, weapon, damage, shields, and life
BETTER UPDATE: THE PACKAPUNCH (damage upgrade station) HAS BEEN ADDED, AN OBJECTIVE SYSTEM THAT ISSUES 3 OBJECTIVES IN A RANDOM ORDER HAS BEEN ADDED, AND, LASTLY, I HAVE ADDED TWO AIR STRIKE STATIONS THAT CALL IN BOMBING RUNS FROM VIKINGS (you [the purchaser] gets the kills from the bombing run, and the money it may or may not grant)
EVEN BETTER UPDATE (brand new as of Sept 6th): UPDATE!!! i'm about to (meaning right after i send this post) add another update to the map... on top of what i've already added....
i've added two "Graveyard Gateways" which are stores from which you can open a multidimensional link to Graveyard Command (HQ on Earth). From this store, you can purchase reinforcements (4 kinds of units). There is a store positioned by each teleporter, so you can rally your new units directly into the teleporter. You do not need to be near the store to use it, but you must reach with your hero to claim it (players can claim a graveyard gateway from another player after the store has been owned for 15 seconds by any given player).
moving on... the units:
(1) graveyard reaper: fast unit that wields dual magnums and can wear off zombies with enough numbers... costs 1500min
(2) graveyard marine: of equal strength to your hero, and wields an ACR (assault rifle). They can repair turrets/vehicles/barricades, use stimpacks, and toss grenades (for the cost of 25 vespene [ammo] UPDATE your hero can also do this now :D)... costs 3500min
(3) graveyard grenadier: tough armored unit based on a marauder... wields an area-of-effect grenade launcher that can tear up weaker groups of enemies. Can use stimpack and repair.... costs 8000min and 500vespene
(4) eviscerator: ultimate Graveyard unit. Wields twin AA12s (automatic shotguns), has heavy high regen shields, and a nice ability. With a cooldown of 20 seconds, they can use a shield burst, which launches their shields outward to knock back, stun, and deal significant damage to all surrounding enemies. They can also use stimpack and repair... costs 25000min and 1000vespene (more than packapunch :O)