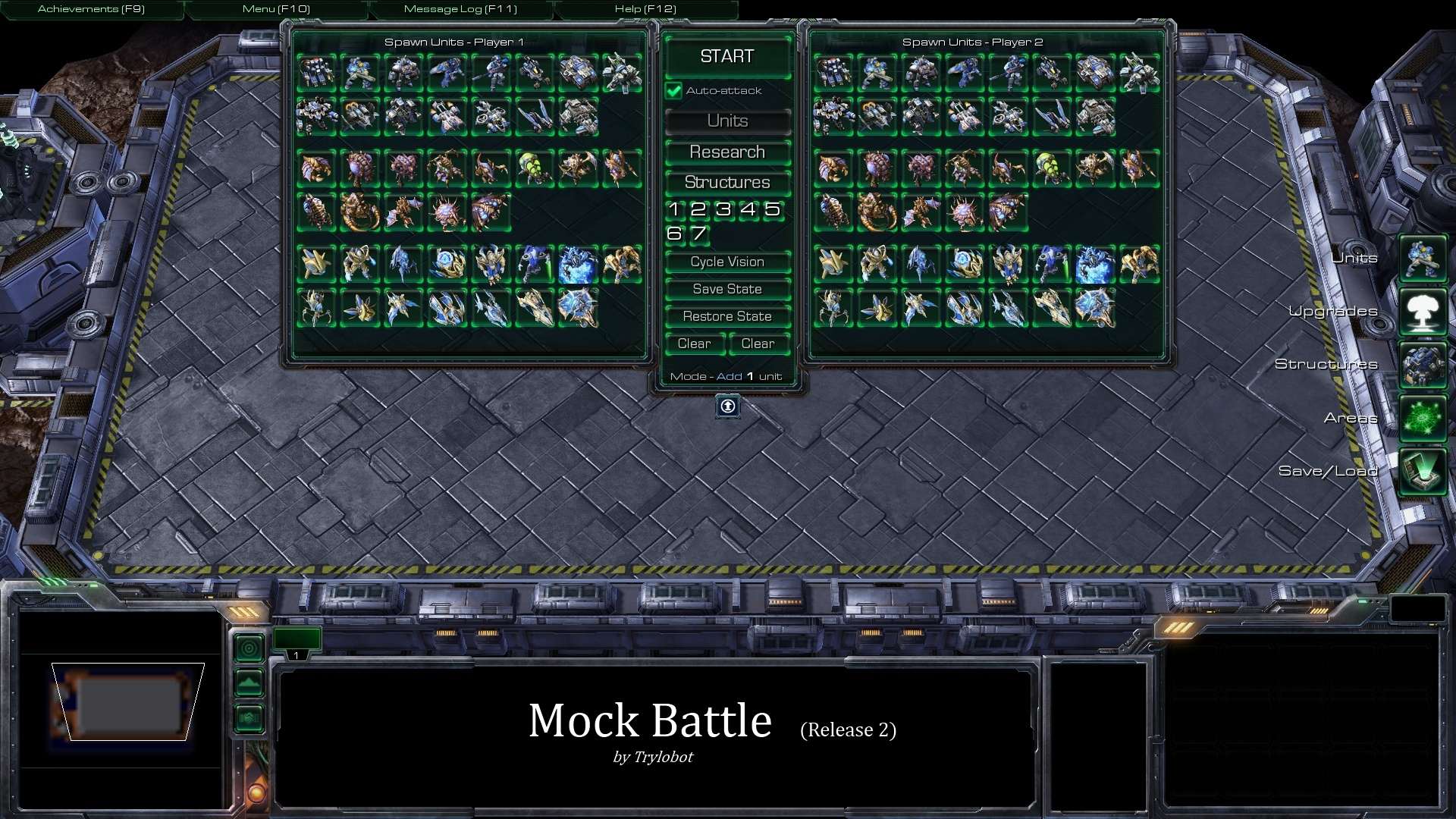 Mock Battle (Unit Tester)
Description
Spawn units, research upgrades, place structures. Take control of units from either army and test out your micro skills. Simulate base assaults. Test your best counter-armies. Compare army costs. Save configurations for later, or even share them.

Quick Help
Units Mode
Click to spawn 1 unit.
Shift+Click to spawn 5 units.
Ctrl+Click to remove 1 unit.
Shift+Ctrl+Click to remove 5 units.
Backspace to remove all selected units.
Upgrades Mode
Click to research an upgrade.
Structures Mode
Click to enter placement mode.
Click again to choose a location for the structure.
Hold Shift to place multiple structures of the same type.
Backspace to remove all selected structures.


Future Plans
Next Release
Bugfix: Fix costs for morphed units (cost of morphing + unmorphed unit cost)
Game speed set to Faster
Lobby option defaults
Future Release (by priority)
Bugfix: Persistent unit abilities (such as Vortex) are not Cleared
Bugfix: Potential problem with Mothership armor (vs. Corruptor)
Bugfix: Placed Creep Tumors are not burrowed
Bugfix: Ghost - Tac.Nuke Strike cancels on switch vision
Bugfix/Investigate: Unit upgrade pics do not reflect reset of army upgrades
Multiplayer Support (2 player)
Use progammer's Realtime Mouse-Tracking system for structure placement
Selection Upgrade - Pop up menu displaying upgrades filtered by the selected units and owning players
Clear Units only/Structures only/Upgrades only functions
Hotkeys for common functions: Start, Rejuvinate, Pause, Vision
Manually adjust unit spawn locations
Store Orders for each Unit
Save Force Groups other than 1 & 2 (which are reserved)
More Flexible Auto-Issue Order system on Start
Multiple Save Slots
Active Unit Count legibility
Neutral Buildings (Xel'Naga Watchtower, Mineral, Vespene Geyser)
More Detailed Cost Statistics: Total Resources Spent (Units / Upgrades / Structures, +subtotals)
Upgrade Button - Cycle (instead of Disable)
Bug: Changeling stops after disguising if not sharing vision with it
Bug: Ctrl+ESC causes Ctrl key to be temporarily "Stuck" down
Bug: Immortal & Colossus facing angle not being restored properly
Clean up the Campaign Unit/Hero tooltips
Separate Area 6 spawning positions
Campaign Upgrades
Structure Placement Mode indistinguishable from official mode


Change Log
Release 8
Added All Campaign Units, Heroes & Structures
Undo - Blizzard Patch 1.1 balance change - Ultralisk "Ram" building attack reset to pre-patch
Package Dependencies: moved Liberty Campaign to lowest priority - Melee unit stats & balance changes will always supercede Campaign units now (fixes Archon damage, among many others)
Bugfix: Ghost Academy Nukes restored properly
Creep Tumor Placement Footprint fixed
Bugfix: Mothership went missing (sorry), back now
Release 7
Bugfix: Supply Cost of units corrected
Bugfix: Burrowed Zerg units no longer partially ignored
Bugfix: Restored Unit Positions are more accurate
Restricted Flying Unit Movement to Current Area
Feature: Battle-mode minimal UI (replaced "Done" button; added Cycle Vision, Restore State and Army Value Reports)
Release 6
Structure Placement mode: Blocking Units are now pushed out of the way; Placement Grid visualization tweaked
Campaign Content added (Terran Units and Mercs), toggle display with checkbox
Release 5
Structure Placement mode: Now uses official "Placement Models" where applicable; Passability and Footprint Validity checks are now 100% accurate and use the same per-grid-square Placement check as the internal game code; Placement Grid visualization is "height-locked" to the structure ghost height; Structure Ghost movement is more snappy (instantaneous, no "blend");
Bug fix: Terran Bunker + Neosteel upgrade was not saving units occupying slots 5 & 6
Release 4
Structure Placement mode: Placement Grid Emulation improved (placement accuracy, bugfixes, help box added)
Structure Energy auto-filled, Ghost Academy Nuke auto-built
Release 3
Structure Placement mode: Placement Grid Emulation added (still not perfect, but better than Release 2)
Non-league upgrades removed (Viking - Jotun Boosters)
Release 2
Blizzard Patch 1.1 balance changes implemented early (except for build times)
Cycle Vision function added (cycles between Player 1, Player 2, Global Vision)
Backspace Function - press backspace to delete all currently selected units/structures
Any Units ordered to Hold Position will not attack by default when Auto-attack is enabled
Carrier Interceptors fixed (pre-battle invulnerability removed completely)
Structure Placement mode is more accurate (but still not perfect)
Separated the Clear All button; now there are left/right Clear
Non-league upgrades removed (Immortal - Weapon Range, Infestor - Peristalsis)
Release 1
Provided Unit, Upgrade and Structure selection on 7 different areas. There were quite a few bugs in this release.