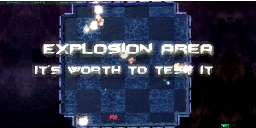 Explosion Area v1.17b
Description
Explosion Area
Overview
3 Modes selectable: Wall Ball, Snake, Random Explosions

Reset included (You dont have to rehost the Map)

Bank - Stats will be saved (At the moment not visible)

Up to 8 Players (recomended)
Game Modes
Wall Ball
Here are 3 different Unit types available:
Knowledge Seekers

Movementspeed: 4
Abilities: If this unit gets near a normal or special Artefact he will absorb this energy and will become a other unit. Which unit he will become depends on which Artefact type he absorbs. If its a normal Artefact he will become a "Magician", if its a special Artefact he will become "Tassadar"
Magician

Movementspeed: 6
Abilities: When you get a Magician you have to run in one of the sidefields to create a linear explosion from one to the other side. With this explosions you have to kill the opponents. Your unit loses the power and the artefact will spawn on the penultimate field again, ready to be picked up again.
Tassadar

Movementspeed: 3,8
Abilities: You have to again walk in one of the sidefields to create a Explosion. The difference is the type of the Explosion. Its much bigger and the chance to kill someone with it is higher. Also the first Explosion which will hit you will be absorbed by your shield. Only the second one will kill you.
At the begining you can select how many rounds you want to play, each round everyone start with 4 live. A special feature in this Mode is the "Sudden Death" which will be activated when only 2 player are alive. There will 4 fields be randomly choosen and marked with the "Ghost Nuke" Actor. After a short time a Explosion will be created there. This will make it harder for the player to move in this arena.
The Second Mode:
Snake
In this Mode a Explosion with a random direction and random speed will start in the Middle of the Map. This Explosions wont stop and will bounce off the edges of the arena. The following explosions will spawn on a randomly choosen sidefield which will be marked again with the "Ghost Nuke" Actor. To make sure that the players dont will stay afk in a edge some Mineral shards will spawn randomly all over the area. If you pick up one of them you will gain +25 Points. You also gain one Point per second for just being alive.
Also another power ups will spawn in the arena.
This Mode will end when every player is dead. The winner is the one with the highest amount of points. With the mineral shards its possible to win even if you arent the last player alive, so keep on picking them up as long as possible.
The third Mode:
Random Explosions
This is the latest Mode and it still can be buggy, thats why there is a alpha behind it at the Mode selection Dialog. Here are two different types of Explosions.
One time the harmless blue who will mark where after a short time the dangerous red will spawn. The fields are randomly choosen. (again :P)
The winner in this Mode is the last one alive.
I still need feedback and reports if you find bugs. Map is single playable (excepted Mode Wall Ball)
More Player = More Fun :P