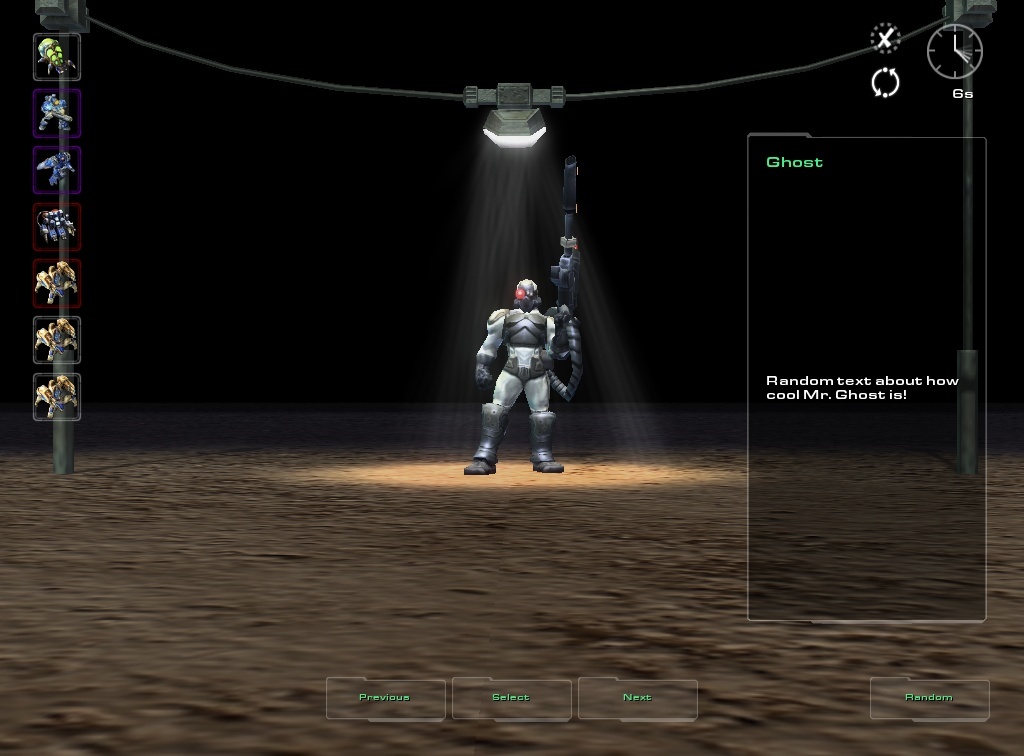 Hero Selection Library
Description
Dynamic Hero Selection Library.
Current version: 3.0.1 Final - only bug-fix releases coming up
A very easy to use library with plenty of options. Simply add it to your map, whip in a few heroes and BAM you got yourself a beautiful, full featured hero selection.
Features
Completely modular - add any amount of units to the selection
Extremely easy to use - simply call the action
Based on a single point in the map
Shows icons for all units
Identifies randoming players
Repick option
Custom UI
Settings - most notably:

Three different hero selection styles
Skin Color Scheme
Exclusive Heroes - Allows every unit to be picked only once
Spawn Immediately - Allows players to start the game before hero picking is finished
Secret Heroes - Only obtainable through randoming
Unavailable Heroes - Shown in circle but cannot be obtained

And many small things...
How to use
NOTE: Action Hint Texts do not show due to a bug - go into Library View (View -> Show Library), open libCircleHeroSelection, open the Actions folder and you can read the hint text in the comment of the action.
Download the latest file and import it in the Trigger Editor. View -> Library -> Import Library. You can now see the available actions in your triggers under the label 'Circle Hero Selection'.
Read the manual found in the download section
Make sure you use 'Set Circle Hero Selection At Point'
Then add any amount of heroes with 'Add Unit To Circle Hero Selection Pool'
Now run the action 'Create Circle Hero Selection' Done! Don't forget to check out the additional options.
Changelog
v3.0.1 Final
Bugfixes:

Icon image no longer tiled
Exclusive random no longer says you repicked
Revealer time fixed in game speeds other than normal
No more unit models in portrait mode
v3.0 Final
Optimized code & bug fixes
Added check to see if there are enough exclusive heroes for all players
Repick option added
Center Info dialog added
Removed player 0 requirement - now uses the first player in active players for sample heroes
Removed fidget from all sample heroes
Offset distance is now calculated based on the amount of heroes
Added 2 style types - Flash Screen & Portrait

Portrait requires no room in the map at all, purely dialog based

Added option to force small circle - useful for large amount of heroes because circle will keep expanding however this option will make it crowded
Currently selected hero icon highlighted
Single player detection - force Spawned Immediately on
License
Free to use and edit! Please give credit.
Bugs / Assistance
Please submit all bugs, as detailed as possible. Attached map greatly preferred. If you need help, ask away. IRC works faster.
Suggestions
At this point, feature development has come to a halt so I can start working on other projects. However, extremely good suggestions will still get implemented.
Localization
An SC2 Library cannot be localized at the moment. It will work with enGB / enUS clients. However Hint Text on Actions are missing due to a bug on Blizzards part. You can find these hint texts if you go into the Library View (View -> Show Library), open the Hero Selection Library folder and go into the Actions folder. Click on the function and you will see the hint text in a comment.
Download
Latest version can always be found in the files section of the project page. Be sure to read the manual.