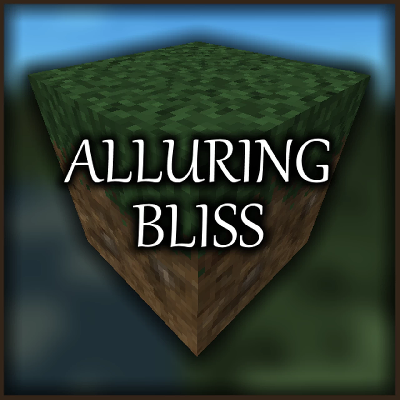 AlluringBliss
---
---
---
---
---
---
---
See below for update logs and Downloads!
V1.3.0.11 released! 02/26/21
Follow the new AlluringBliss Twitter page! And visit us own site!
---
AlluringBliss is a vibrant, and majestic themed base resource pack based around multiple resource packs that I love myself. Some packs such as John Smith Legacy, BDcraft, and also around my very own Smoothcraft. All textures and ideas were driven by these and many more packs besides!

The reason for choosing the name AlluringBliss is because the terms or Alluring and Bliss

Alluring = Attractive or fascinating
Bliss = Great Joy

Join this link and follow AlluringBliss easier on the go with daily and latest news! http://wix.to/mcCMBYo

Therefore AlluringBliss is a fascinating resource pack that'll bring you great joy! I've been working on it now for quite some time now and finally I wish to bring you my project I've been working on solo. So have fun with it! Take pictures of your builds with AlluringBliss on and tweet them or Email them to xxmastermind14xx@gmail.com !
TERMS AND CONDITIONS
You may not redistribute any of the assets found in this resource pack without my explicit permission or credit.
You may not claim any of the assets in this resource pack as your own.
You may not re-upload this resource pack anywhere else unless given permission upon myself. You can do do by emailing the given email below.
You may feel free to use this resource pack on any server, in a screenshot or video provided a link is given to this page or any other official post.
You may feel free to alter the resource pack in any way for your own personal use
* All textures but the paintings, all sounds, and all .JSON/.mcmeta files were created/edited by myself If there are any questions please do email ( xxmastermind14xx@gmail.com ) or message my planet minecraft account*
──────────── © AlluringBliss 2020 ────────────