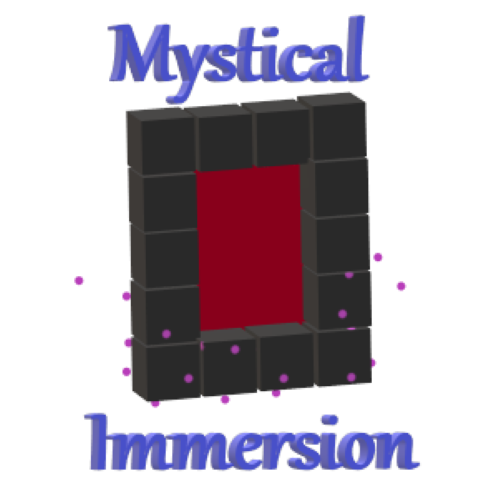 Mystical Immersion
From the deepest most remote depths of my mind, I present to you Mystical Immersion.
Embark on a world of discovery where magic and tech abound. Delve in to the mysteries of the arcane, or pursue a career in mad science that Tesla or Edison would envy.
Build a car, colonize an island, master the magic, comprehend the science, Mystical Immersion has everything you need to be enthralled for weeks on end.
This pack is a kitchen skin 1.16.1+ forge modpack with terraforged* and oh the biomes you'll go as the main mods. More mods can be added in the future! The goal of the pack is to mostly have fun while exploring the many biomes added by oh the biomes you'll go along with biomes oh plenty. Contact me on discord at https://discord.gg/Axe4aZCT6u or Hauntedpasta1#8200. This is a curse only pack at the moment. All mods in the modpack are only from curse.
*terraforged is only in later version of the modpack due to it used to be centered around immersive portal
but immersive portals was removed in 1.9.0 for causing many issues including fps!!!
Any suggestions please commit below (I will try to add them to the best of my ability)
Want to host this Modpack but don't have a lot of money to spend on a server? Try CivilHost.net, starting at just $0.86/gb, get high-end hardware, for low prices.