Focused on the Experience and the Atmosphere
Have you ever wished Minecraft had more stuff to find and explore? Cool builds and dungeons scattered across the land? Well, look no more - check out More Lore!
We love Minecraft, and we created a modpack that enhances and refines the vanilla game, while adding loads of new structures and content. Inspired heavily by Valhelsia Enhanced Vanilla, More Lore is a hand-selected, quality modpack built on the Fabric 1.19.2 ecosystem! The pack aims to avoid unnecessary mods that add little to nothing to the player's experience and focuses heavily on exploration, structures, and organic additions that fit into the Vanilla Minecraft experience. This includes overhauled music, ambience and sound, camera enhancements, game mechanic adjustments for more realism and a highly immersive world that combines the best of Terralith, Regions Unexplored, Incendium, and Better End.
---
It's almost impossible not to get lost from all the awesome stuff your world will bring. Unlike BetterMC, our pack balances generation and truly makes it feel like a completely new experience without changing the game!
---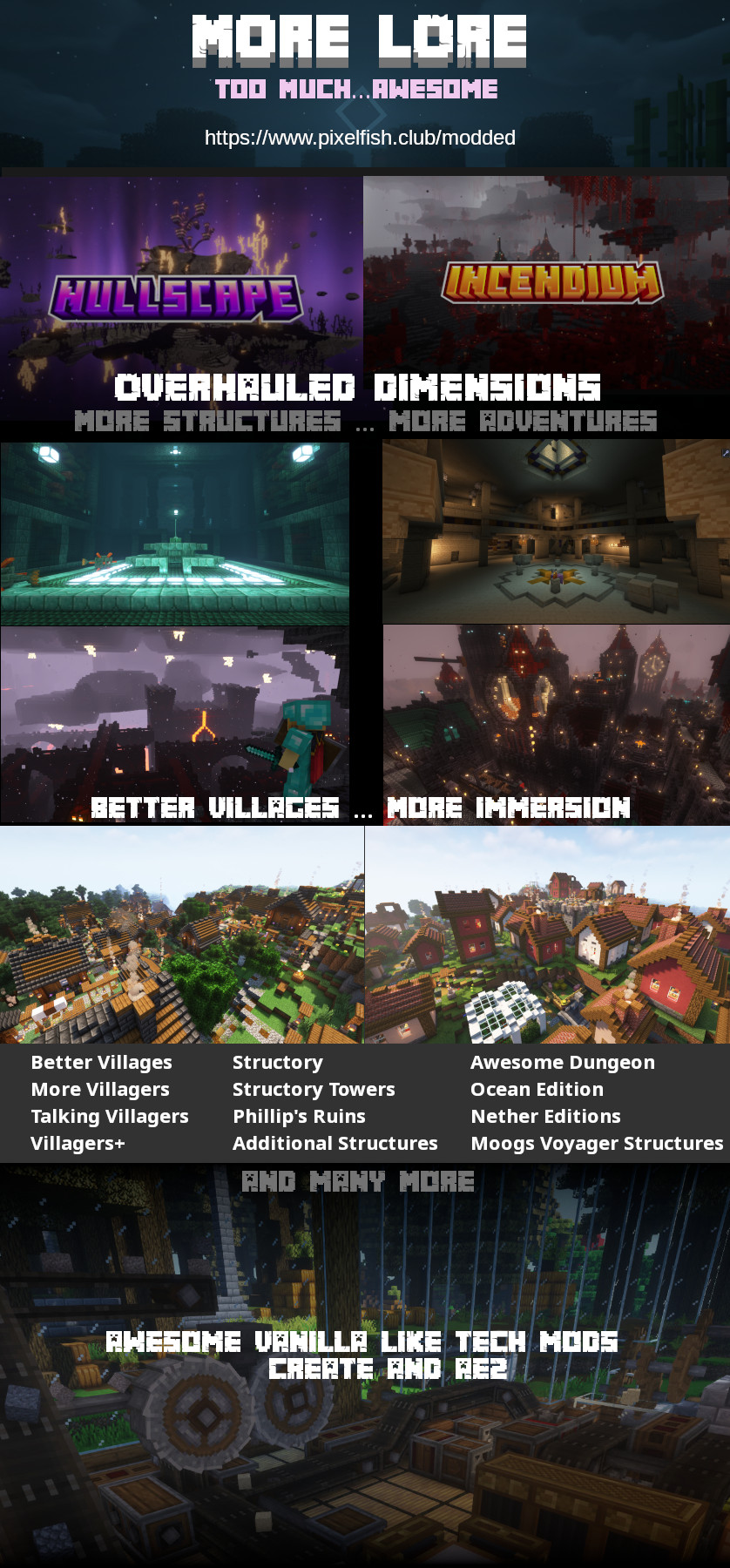 Click on the dependencies tab to see a complete list of current mods. For more information on current mods and screenshots visit our MoreLore wiki page

We focused on mods that enhance the adventuring spirit of the game to go out and earn that next higher tier. This pack includes a large array of structure and dungeon mods that make your Minecraft world more interesting. Most vanilla villages and structures have been completely overhauled or enhanced. Since this pack revolves around "More Lore," we have plans to include unique mobs and bosses in the future. We also want to respect the experience of players who just want to enjoy and explore. We will continue to balance this as we develop the pack and we are open to player feedback. You can join our Discord today! If you want to come join our awesome community and play on our official server, join us at modded.pixelfish.club!

This project is still in active development. You can find out more about the pack by visiting our official pack web page.