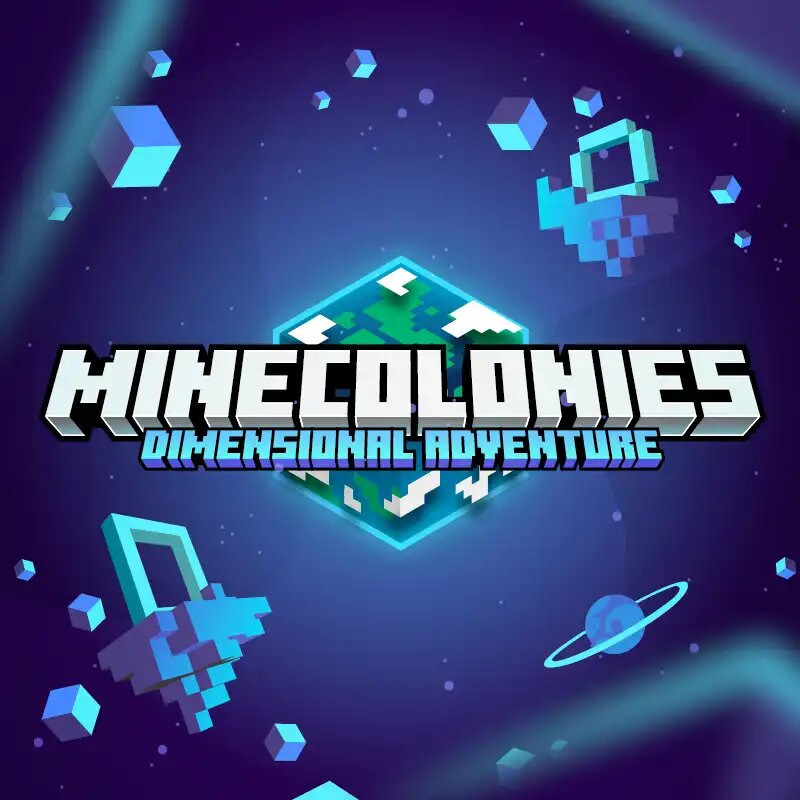 MineColonies: Dimensional Adventure


Embark on a world of creation and discovery with MineColonies: Dimensional Adventure. This modpack elevates your Minecraft experience from mere building to crafting stories, growing communities, and carving out your own unique journey.
As the architect of your domain, breathe life into your colony one block at a time. Let your town bristle with activity, every corner buzzing with the life you brought into the world. But don't get too comfortable! Beyond the cozy lanes of your town lie uncharted dimensions, eerie dungeons, and distant planets, all waiting for a daring explorer to uncover their secrets. MineColonies: Dimensional Adventure is not just about solo ventures. Join forces with friends or an entire community to share the thrill of creation and exploration, thanks to our partnership with 'Craft Down Under'.


Dynamic NPCs: Experience a living, thriving town with NPCs such as Builders, Crafters, Farmers, Fishermen, Guards, Miners, Smelters, Bakers, Cooks, Deliveryman, Animal Herders, and more!
Specialized Buildings: Build essential structures such as the Warehouse, Citizen Huts, and a Townhall to make your colony unique.
Multitude of Dimensions: Embark on a journey across numerous dimensions, each offering unique adventures and resources.
Various Dungeons: Explore an array of challenging dungeons filled with hidden treasures and menacing foes.
Enhanced Building Materials: With a vast range of building materials, you can create the base of your dreams.
Security Devices: Protect your hard-earned bases from mobs with advanced security devices.
Tech Galore: Dive into the world of advanced tech with mods like Mekanism and Create.
Airships and Space Exploration: Take to the skies with elegant airships or venture into the cosmos to discover and conquer new planets.
Expansive Crops: Cultivate a diverse range of crops to feed your citizens and sustain your growing colony.


Thanks to our partnership with 'Craft Down Under', we're thrilled to bring you an official multiplayer experience. To join, visit our partner's discord: Craft Down Under. Whether you wish to play alongside your friends or join a larger community, we've got you covered.
The Essential Mod is pre-installed on the pack, allowing players to effortlessly join friends in single-player worlds with no configuration. Simply fire up the modpack, invite your friends, and start building your own dimensional adventure together.


Our vision for MineColonies: Dimensional Adventure is to create a friendly and enjoyable modpack for everyone. We believe in the power of choice and the thrill of creation. We aim to offer an environment where you can build intricate contraptions, establish your town, embark on grand adventures, and write your own story. The adventure is yours to shape. The only limit is your imagination. Welcome to your own Dimensional Adventure!
(A bit Late) Thank You Guys soooo Much for sticking with me and this modpack and getting us over 100K downloads. I'm truly floored. I didn't think I'd actually get to this point. You guys are AWESOME!!!!!
Official server provided by Craft Down Under
Official Discord: Click The Issues Tab
ServerPacks: Full Release
1.20.2: PLANNED
anything below 1.12.2 will not be made. Sorry.
All Mod Credits go to their RESPECTIVE authors.
Always please consider reporting any issues regarding certain mods to their respective authors.
Issues or feedback for the modpack i.e. future content or anything you think that should be added please leave in the comments section below.
Need a server to play with friends? Don't know how to setup one? Just rent an already configured server from BisectHosting!

Click on the picture above, select plan(at least 4GB), and use my code Devils to get 25% off your first month and enjoy playing with your friends!