So I started develop this mod just for fun (originally I only planned to build a musket) and it turned out better than I could ever expected, so I implemented more weapons bringing back memories of the old balkon's weaponmod for 1.7. For now the objective is to continue with the warhammer inspiration adding races specific weapons and mobs are planned.
1.9.2.5: Skaven update added skaven, rat-like creatures lurking in the deep with a wide range of of weapons and deadly firepower, they can also be found in skaven nests abandoned villages in swamps with custom loot. + increased dwarven villlages spawn rates.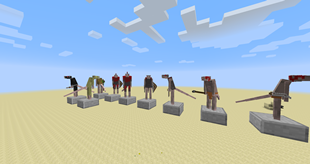 1.9.0.2:the pegasus update: you can know fly with this mighty steed, the Pegasus is a rare horse living in the mountains(can be found in every hill type biome). to fly with it just press jump twice (like in creative) it can fly in 2 different ways: a stationary mode slow but where it can stay "stationary" in the air and climb fast and a "elytra" mode: where it fly fast in the air and can remain at a high speed even when not looking down.
+new mob(1.9.1.1) the pirate skeleton: it uses gunpowder weapons too fight, can be found on beaches, oceans , mesas and jungles.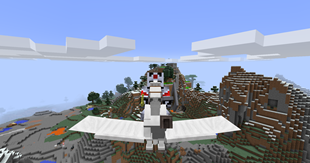 since the version 1.8 of this mod dwarves will spawn in the mountains(extreme hills). Be carefull those little creatures don't like it when they are attacked and they know how to fight. Moreover they have their own unique trades with new items: from left to right on the image below:
the Farmer: like a normal farmer but sells beer (dwarves prefer it and would send it to each other instead of bread).
the Miner: sells you minerals(including quartz),sells minecarts,golden rails,TNT,...) but also a war pick( like a pickaxe but you can fight with it).
the Builder: sells you non renewable blocks(clay,red sandstone,quartz)
the Lord : a rare villager who will sell you after passing all his trades the legendary Ghal Maraz the most powerful warhammer know who buff you in combat.
the Engineer: sells you everything you need for your gunpowder weapons, including 2 new weapons :the dwarven handgun(like a handgun but better) ,the grudgeraker(2 shot blunderbuss) and the drakegun(flamethrower who use blaze rods to function) + just in case you need it diamond chainmail armor.
the Slayer(not on image yet): buys cooked meat and sells mob heads.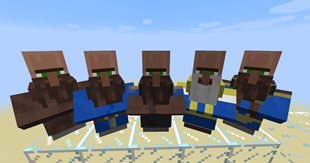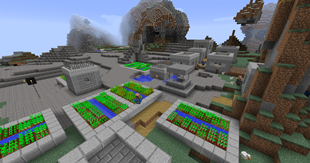 Craftable equipment(craft can be seen in images or in config wiki):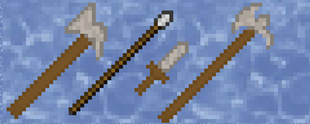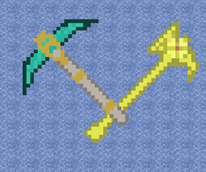 - Warhammer (heavy hitter, but slow attack speed)
- Spear (less damage than a sword but faster attack speed + can be thrown)
- Knife (few damage but fast attack speed (could be useful against baby zombies))
- Halberd(slower than a sword but hits harder, has a right click attack with an extended reach)
shields

: empire, high elf dark elf and dwarf like a normal shield but with 3 times the durability small shields(empire and dwarf) allow you to walk faster than a normal when using it + you can also run with them) large shields(elves) allow you to aim with a gun and block at the same time

ranged weapons: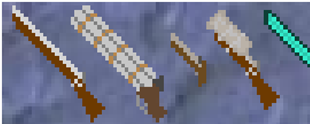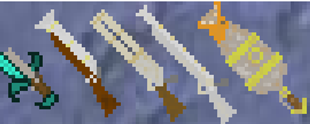 (hold right click to reload[weapon rotate up when needed to reload] until the click sound):
-Musket (stronger than a bow but slower to fire)
-Nuln Repeater Rifle (same as a musket but times 6 (thus also takes a longer time to reload)
-Flintlock Pistol(reloads faster but deal less damage)
-Grenade Launcher(takes grenades as ammo, punch increases explosion size, power increases the velocity of the projectile)
-Gunsword (sword and a pistol at the same time)
-Blunderbuss(deadly at close range but loses damage rapidly at a distance).
a config file is present to disable items in case of conflict with other mods for example, other elements can be added if needed+ you can now modify every item properties(damage, speed, and durability on the shield).
feedback is appreciated I created a discord too if you are interested : https://discord.gg/bYvrRvj
However this mod is my first mod so it's far from being perfect feel free to improve it
( https://github.com/antio789/warhammermod.git )
todolist: see issues( https://github.com/antio789/warhammermod/issues )
Francais:
Donc j'ai commencé ce mod juste pour m'amuser à découvrir le modding, je pensait seulement a créer un arquebuse/mousquet. Puis le résultat était bien au-delà de mes attentes, donc j'ai décidé de continuer a développer plus d'armes. Ensuite j'ai décidé de combiner avec ma passion pour l'univers de Warhammer avec l'arquebuse a répétition par exemple et j'ai prévu bien plus d'armes et de pnj et créatures.
version 1.9.2.5: rajout des skaven : des rats humanoides qui se cachent dans les profondeurs avec un arsenal important et des armes a feu puissantes. on peut aussi les retrouver dans des villages abandonnées dans les marécages.
version 1.9.0.2: apporte le Pegaus le cheval volant: s'envole en appyant 2 fois sur la barre espace. deux modes existes: le mode stationnaire qui permet d'avoir un bon controlle et de monter rapidment, mais ce déplace lentement, ainsi que le mode elytra ou il vol rapidement meme en ne regardant pas en bas.
Depuis la version 1.8 le mod dispose de Nains qui apparaissent dans la montagne au sein de leur villages. Ils vous échangeront des armes puissantes ainsi que bien d'autres choses intéressantes.
il y a: le Fermier: comme le villageois normal mais vend de la bière,que je conseille de goutter) au lieu du pain.
Le mineur: pleins de mineraux utiles comme quartz ainsi que rails,tnt,..., mais aussi une pioche de combat: comme une pioche normale mais utilisable en combat.
L'ingénieurs: tout ce dont vous aurez besoin pour vos armes, un tromblon et un arquebuse amélioré, ainsi que un Fusil-Dragon(lance-flame qui fonctionne au bâton de blaze). ausi une armure en mailles de diamant au cas où.
Le Constructeur: tout les matériaux de construction non renouvellables comme l'argile, bloc de quartz,...
Le Seigneur: vous fournira le légendaire Ghal Maraz qui offres des effets positifs en combat.
Dans les armes craftables(le craft peut etre vu dans les images sur curseforge ou dans le la page wiki du config du mod(mais en anglais)):
en

melee

: -marteau d'Armes: plus puissant qu'une épée ou hache mais plus lente. -lance: moins forte mais plus rapide qu'une épée et peut être lancé -couteau: très rapide mais peu de dégâts - hallebarde: plus puissant qu'une épée mais un peu moins rapide, dispose aussi d'une attaque longue distance a charger click droit.

boucliers:

des boucliers plus résistant que le bouclier de base avec les motifs de l'empire, des Nains ,des haut elfes et des elfes noir. les boucliers nains et emperiales vous permettent de courir ansi que de marche rplus vite que avec un bouclier normal. les bouclier elfiques permettent de viser avec une arme et de blocker en meme temps.
armes à distance(recharge en maintenant click droit jusqu'au click):


arquebuse: puissante arme a feu plus dévastatrice qu'un arc mais plus lente a recharger.
pistolet:plus rapide a recharger mais moins de dégâts que l'arquebuse.
arquebuse à répétition de Nuln: arquebuse a 6 coups.
lanceur de grenades: puissance augmente la portée et frappe la taille de l'explosion.
épée-pistolet: épée+pistolet tout simplement
tromblon: beaucoup de dégats a courte portée, mais cela diminue rapidement avec la distance.