English | 日本語
VisibleRay

Generator
---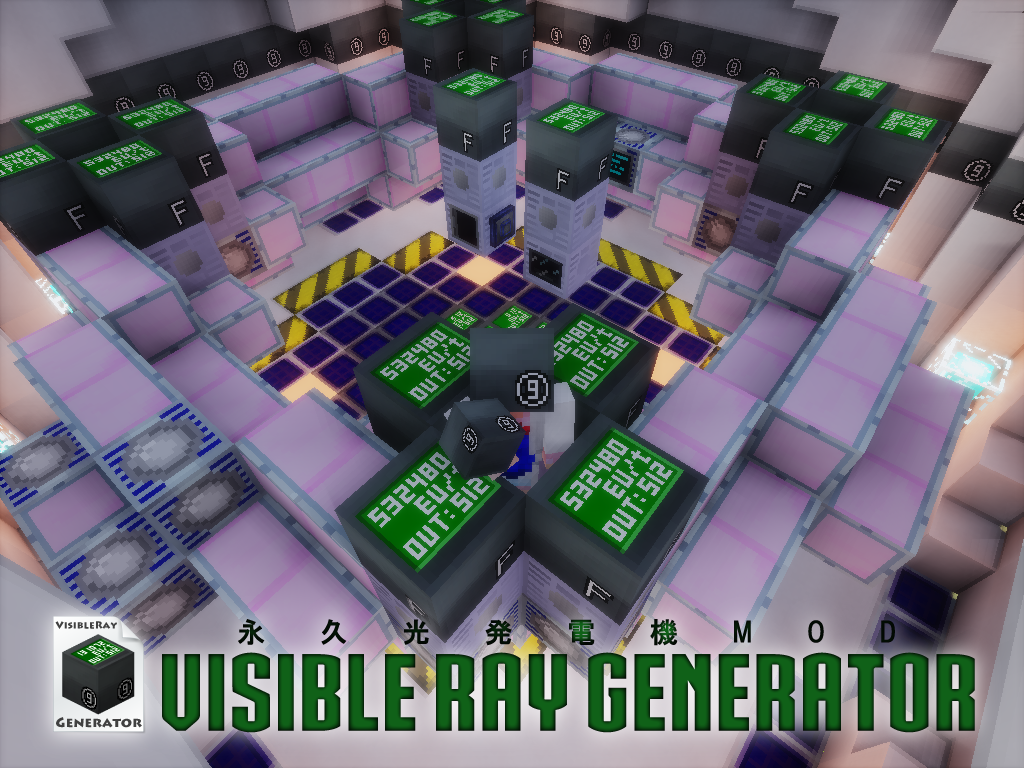 ---
About
The solar panel of IC 2 is an excellent generator that can generate power with no resource.
However, place too many solar panels is strictly prohibited.
It will distort your time due to load, slow down various processes, and also cause FPS to fall, so you will decline your industrialization.
In such a case, let's compress those solar panels using this Mod.
By compressing it becomes a light and strong VisibleRay Generator.
As the name implies, VisibleRay Generators need the power of the sun.
However, it would be very inconvenient to put it only on the rooftop.
However, by incorporating a glow stone in an VisibleRay Generator, we can create a CE Permanent light Generator that produces power without sunlight by demonstrating the power hidden in the glow stone.
Now is the era of compression. Let's push the industrialization further with your compressed generator!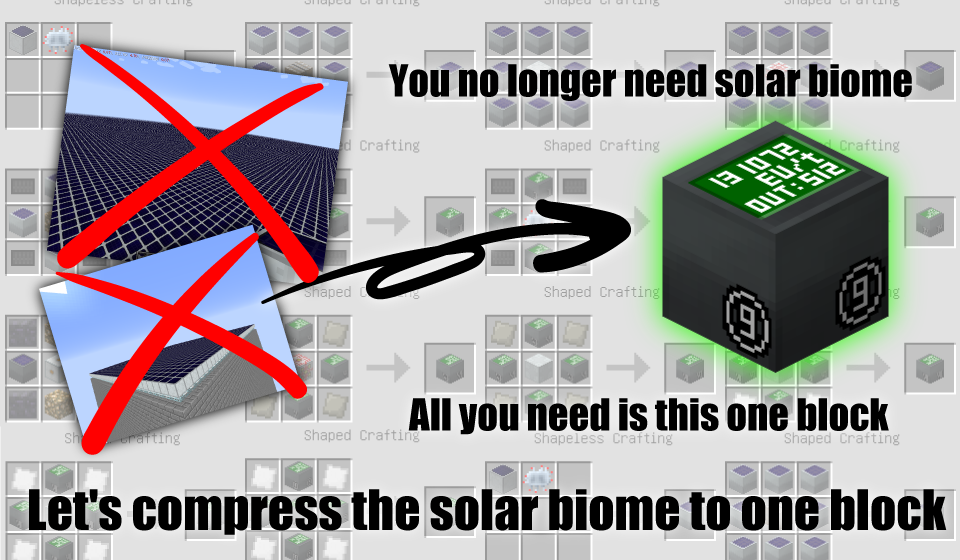 ---
Blocks
These are VisibleRay Generator that compresses IC2 Solar Panel

Recipes Here!
Besides solar, Advanced Circuits and Transformers are required.
VisibleRay Generator 1EU/t

Solar Panel+Advanced Circuit

VisibleRay Generator 8EU/t

VisibleRay Generator 1EU/t×8+LV-Transformer

VisibleRay Generator 64EU/t

VisibleRay Generator 8EU/t×8+MV-Transformer

VisibleRay Generator 512EU/t

VisibleRay Generator 64EU/t×8+HV-Transformer
---
It is a powerful

CE Permanent light generator

s that does not require sunlight.

Recipes Here!
Materials other than solar are also required, and the cost is raised.
2EU/t

VisibleRay Generator 1EU/t×4+Carbon Plate×4+Glowstone

CE Permanent light generator 8EU/t

CE Permanent light generator 2EU/t×4+Carbon Plate×4+Electronic Circuit

CE Permanent light generator 32EU/t

CE Permanent light generator 8EU/t×4+Carbon Plate×4+Advanced Circuit

CE Permanent light generator 128EU/t

CE Permanent light generator 32EU/t×4+Carbon Plate×4+LV-Transformer

CE Permanent light generator 512EU/t

VisibleRay Generator 512EU/t×2+×4+Glowstone×2+MV-Transformer

CE Permanent light generator 512EU/t

CE Permanent light generator 128EU/t×4+Carbon Plate×4+MV-Transformer

CE Permanent light generator 2048EU/t

CE Permanent light generator 512EU/t×4+Advanced Alloy×4+HV-Transformer

CE Permanent light generator 8192EU/t

CE Permanent light generator 2048EU/t×4+Advanced Alloy×4+Advanced Machine Casing

CE Permanent light generator 32768EU/t

CE Permanent light generator 8192EU/t×4+Iridium Reinforced Plate×4+Advanced Machine Casing

CE Permanent light generator 131072EU/t

CE Permanent light generator 32768EU/t×4+Iridium Reinforced Plate×4+Advanced Machine Casing

CE Permanent light generator 532480EU/t

CE Permanent light generator 131072EU/t×4+Iridium Reinforced Plate×4+CE Permanent light generator 8192EU/t