UberMiner
UberMiner is a mod that adds a customizable tool that lets you mine only ores. If you're bored of having to spend hours looking for ores, this is the right mod for you. It automatically breaks the ores and replaces them with stone.
UberTool - The mod's main item, it mines ores in a 3x3 area around the player, you can upgrade the tool in the UberCrafter using redstone to make it faster, and also put modifiers to increase its range(5x5).
UberPowder - It works almost the same way the UberTool does, the difference is that you can throw it, instead of having to hold right-click. There are two tiers: Tier 1 (3x3), Tier 2 (5x5).
UberShulker - It works the same way as a shulker, but it has only 9 slots. It's very cheap for early game.
Usage
(UberTool) Hold Right-Click until it charges, then release it, it will mine all the ores around you in a 3x3 area, you can expand it to a 5x5 area using the Range Modifier.
(Max tier tool: Speed: 4, Range: 4)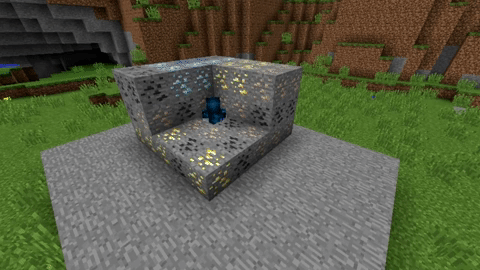 Suport me on Patreon
CURRENTLY IN BETA VERSION, IF YOU FIND ANY BUGS, PLEASE REPORT IT HERE