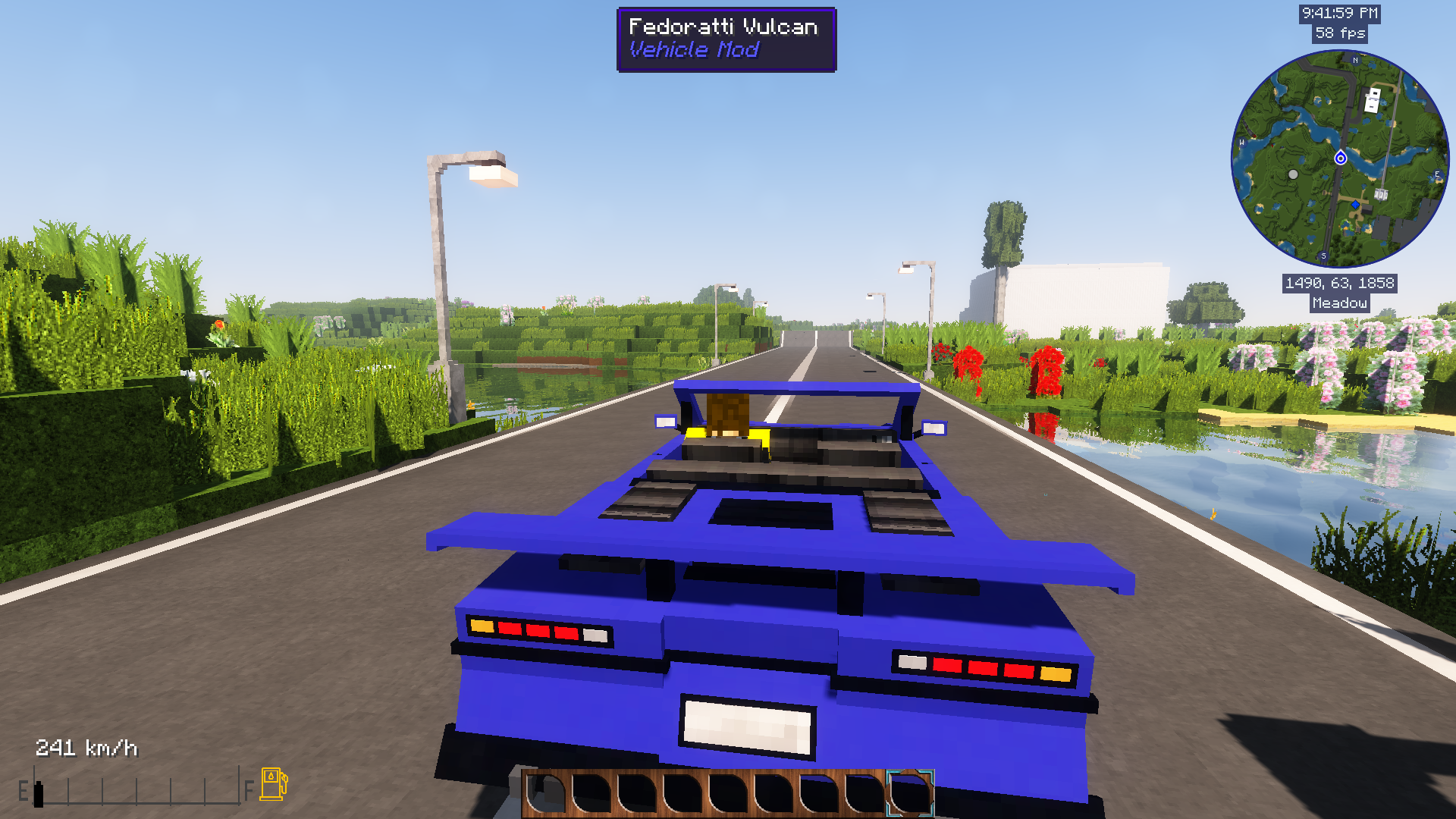 JOIN OUR OFFICIAL DISCORD SERVER
What can I find in this mod?
This mod is based around vehicles. Supersports, vans, pickups and more. Most vehicles are fully repaintable, all 16 minecraft base colors and there are even some special paintjobs (29 in total)! Vehicles require fuel, which can be refilled in petrol pumps or manually with fuel cans.
All vehicle parameters are fully customizable through your config file.
Every vehicle has storage space based on it's type, so you can choose to carry extra stuff which will cost you speed or vice versa.
Vehicles are now randomly spawned in world. Find them by exploring on surface. :) (Since 1.0.2 update)
Mod mechanics:
Tunning: (Since 1.0.2)
1) Get inside vehicle
2) Open inventory
3) Insert the part you want to upgrade (only bigger levels are allowed)
Creating fuel:
1) Get Fuel maker
2) Add some activated fuel substance into the left tank (upper left slot)
3) Add fuel filters into the 3 slots in the middle
4) Wait

(Fuel is being created in 1:2 value - for 2 units of activated fuel substance you get 1 unit of fuel)
Refueling vehicles:

With fuel can:
1) Get into vehicle
2) Hold right-click until time runs out

With petrol pump
1) Park in front of the pump
2) Right-click the pump to open GUI - see images
3) Click on 'Find' button
4) If vehicle is found then vehicle fuel stats should be displayed
5) Click on 'Start' button to begin refuelling
5) Refuelling stops when there's either no fuel left in the pump or when vehicle tank is full. You can also stop in manually by pressing the 'Stop' button
In which way is this mod different from other vehicle mods?
In most mods I have played the vehicle sound is static, i.e the same sound for acceleration/braking etc. This mod uses much more dynamic system, where every sound is different.
Vehicle controls are simple, but functional. You will never have to worry about not being able to brake for example.
World actually reacts on vehicles - mobs get scared and try to get out of the way of vehicles. So running mobs over is a bit harder
Are you going to update this mod to other versions?
No ports are planned for now