This mod adds a storage cabinet to the game. It has 270 slots but can only hold items that are the same type.
I.E If you put in an enchanted book, then it will only hold enchanted books.
The cabinet should be compatible with just about any mod. If theres a crash or bug please make an issue on the github page and I'll try to fix it when I can.
Recipe: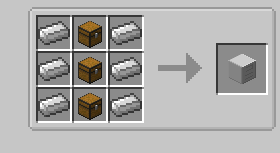 Mod Overview By SuntannedDuck2
Credits to kastaqt for the project icon!