In your adventures, you've discovered the seeds of an ancient alien plant - the crops of which radiate energy! Perhaps by studying these crops, you can unlock the secrets of this long extinct species and rediscover some of their impressive technology.
Static Power
Much more to come as the builds become more stable! Please report issues on the GitHub link above.

What does it add?
The Digistore Network
Logic Gates
New Ores
Ore Processing
RF Power Network
New Food
New Functional blocks
Quarry!
Automated Farms!
Electric Tools!
Item Conduits and Power Conduits
New Armor and Tinkers' Construct Materials.
And much more to come!
Newest Feature! :
The Digistore Network:
The Digistore network uses the ancient alien's process of miniaturization to store large amounts of items in incredibly compact spaces.
Digistores can be linked together with a Digistore Manager to create a Digistore Network.


Items can be pulled from and inserted into the network either through the manager or through any number of I/O ports connected to the network.

Networks can be comprised of any number of Digistores, Digistore I/O Ports, Digistore Network Extenders, and exactly one Digistore Manager.

Digistores on their own allow you to store a large number of a single item. Their storage can be upgraded with a large variety of upgrades, and excess can items can be voided.
Power Generators (To be Expanded) :
Four Tiers of Solar Panels
Liquid Fuel Generator
Mash Fermenter
Ethanol
Power Storage:
Three tiers of Batteries (Static, Energized, and Lumum). Batteries have programmable redstone control based on how much power they contain.
Conduits! :
Conduits that carry items and power.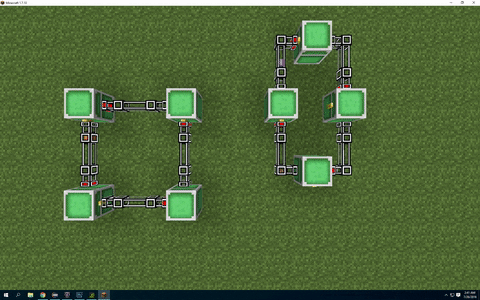 Weapons/Armor
Static, Energized, and Lumum metals can be melted down in a Tinkers' Construct smeltery to make tools! Legend has it Lumum metal out performs Manyullyn!
Functional Blocks
Farmland that doesn't require water OR turn back to dirt on impact!

Grass that provides bufffs!

Lamps!

Chests!
Machines with JEI Recipe Handlers (To be expanded)
Powered Furnace

Powered Grinder

Crop Squeezer

Fluid Infuser

Fluid Generator

Farmer

Fusion Furnace

Quarry

Former

Supersonic Centrifuge

Esoteric Enchanter

Fermenter

Condenser

Distillery

Powered Lumberjack
So much more!
SUPPORTED MODS:
JEI
Tinkers Construct
The One Probe
Thermal Expansion