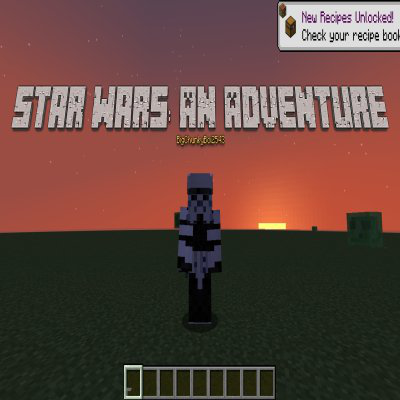 Star Wars: An Adventure
This mod adds all of the Star Wars elements, such as kyber crystals, lightsabers, weapons, characters and biomes. Enjoy.
Biomes:
Naboo
Tatooine
Coruscant
Kamino
Geonosis
Utapau
Mustafar
Kashyyyk
Alderaan
Yavin 4
Hoth
Dagobah
Bespin
Endor
Jakku
D'Qar
Takodana
Illum
Ach-To
Cantonica
Crait
Ajan Kloss
Pasaana
Kijimi
Kef Bir
Exegol
Entities:
Wampa
Tauntaun
R2-D2
Bantha
Palpatine
Obi-Wan Kenobi
C-3PO
Luke Skywalker
Anakin Skywalker
Princess Leia
Chewbacca
Han Solo
Jabba the Hutt
Battle Droid
Lightsabers:
Blue Lightsaber
Green Lightsaber
Red Lightsaber
Purple Lightsaber
Yellow Lightsaber
Orange Lightsaber
White Lightsaber
Darksaber
Pink Lightsaber
Projectile Weapons:
Blaster
Bowcaster
Force Powers:
Force Lightning
Kyber Crystals:
Blue Kyber Crystal
Green Kyber Crystal
Red Kyber Crystal
Purple Kyber Crystal
Yellow Kyber Crystal
Orange Kyber Crystal
White Kyber Crystal
Black Kyber Crystal
Pink Kyber Crystal
Ores:
Blue Kyber Crystal Ore
Green Kyber Crystal Ore
Red Kyber Crystal Ore
Purple Kyber Crystal Ore
Yellow Kyber Crystal Ore
Orange Kyber Crystal Ore
White Kyber Crystal Ore
Black Kyber Crystal Ore
Pink Kyber Crystal Ore
This mod is great for survival as it allows the player to explore the world of Star Wars and defeat Bosses as well as the Ultimate Boss, Palpatine.
This also works for Multiplayer as well.
For the Mod to work, it MUST have the GeckoLib Plugin installed. The version of it has to be 1.18.2, 1.19.2 and 1.19.4.
Enjoy the Mod.