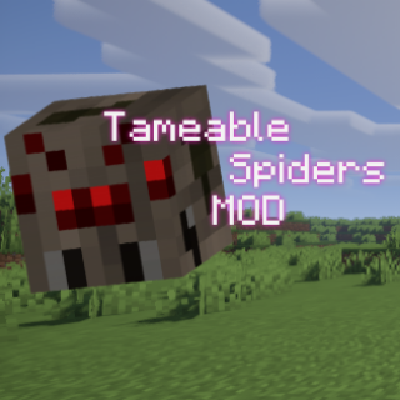 Seba's Tameable Spiders Mod (STS Mod)
English:
This mod adds three new spiders from Latin America, to be more precise, Chile.
These new spiders are:
Corner Spider - A very dangerous spider, too poisonous and fast at once, will attack you all the time. He hates each other with the other two spiders, to deal with it I recommend having a bow or bringing him another spider of the mod.
Tiger Spider - A spider very similar to the normal Minecraft spiders (They will attack you only if you hit them or if night falls), except that they are very sticky, if you approach it will spit your cobwebs and you will be slowly 2 for a few seconds.
Chick Spider - A completely passive spider unless you attack it, you can ride it even if it's not tamed but won't follow you, to tame it you must give it bones until hearts appear. They can't climb walls (in 1.12.2, which is the only version that has the mod to date), but they have a monumental speed and attack entities that attack you or your attacks, like wolves.
[Bugs]
-Domesticated chick spiders won't follow you unless you hit them
-If you right-click+shift on a chick spider you will be left unmobile and you will have to leave your world to walk again]
I am open to receiving feedback and ideas about this mod.
Español:
Este mod añade tres nuevas arañas provenientes de Latinoamerica, para ser mas precisos, Chile.
Estas nuevas arañas son:
Araña de Rincon - Una araña muy peligrosa, demasiado venenosa y rapida a la vez, te atacará todo el tiempo. Se detesta mutuamente con las otras dos arañas, para hacerle frente recomiendo tener un arco o acercarle otra araña del mod.
Araña Tigre - Una araña muy similar a las arañas normales de Minecraft (Te atacarán solo si las golpeas o si cae la noche), con la excepción de que son muy pegajosas, si te acercas te escupirá sus telarañas y quedarás con lentitud 2 por unos pocos segundos.
Araña Pollito - Una araña completamente pasiva a menos de que la ataques, puedes montarte en ella aunque no esté domesticada pero no te seguirá, para dometicarla debes darle huesos hasta que aparezcan corazones. No pueden escalar muros (en la 1.12.2, que es la unica versión que tiene el mod hasta la fecha) , pero tienen una velocidad monumental y atacan a las entidades que te ataquen o tu ataques, como los lobos.
[Bugs]
-Las chick spiders domesticadas no te seguiran a menos de que les des un golpe
-Si haces clic derecho+shift sobre una Araña Pollito quedarás inmovil y tendrás que salirte de tu mundo para volver a caminar
Estoy abierto a recibir comentarios e ideas sobre este mod.
HECHO CON MCREATOR / MADE WITH MCREATOR