This lamp fits fence posts! Another to fit walls!
But that's not all.
Both also stick to block walls, floors and ceilings.
Both emit light, too. Jack-o-lantern 🎃 bright! Amazing!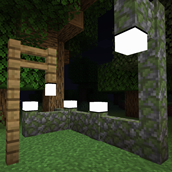 As of v1.1.0 New Recipe: Put a PostLamp in a crafting grid, get a PostLampWall. Works the other way, too.
Mod-pack policy: You may include this mod in your pack, but only if credit is given with a link back to this page, and there is no charging users for its use.
Re-posting: A link to this page is encouraged. Thank you! Re-distributing the mod itself is not allowed.