🎉Thx you for a 300,000 Downloads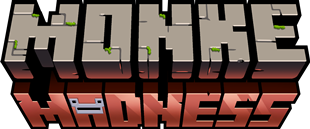 Logo By V1CeNtExD
ABOUT:
This mod is one that adds crazy primates to your minecraft world, our team and i have worked very hard on it, with its inclusiveness in the primate world, it adds many items and mobs, such as orangutans and bonobos. This mod is a work in progress so don't expect it to go away anytime soon.
LINKS:
https://discord.gg/eZbYM7bhNS Monke Team Discord
Join for more info on the mods
CURRENT MOBS:
Orangutan
Uakari
Proboscis
Bonobo
Zombie Ape
Gelada
Rhesus Macaque
Baboon
Mandrill
Hamadryas Baboon
Gibbon
Tarsier
Tamarin
Bale Monkey
Sub Nosed Monkey
Poacher
Gigantopithecus
Ring Tailed Lemur
Japanese Macaque
Crested Macaque
Loris
Bush Baby
Howler Monkey
FAQ:
Fabric Port - No plans atm.
Backport - No I only go forward in version.
Bedrock Port - never
Can I help - Join The Discord and we can talk.
Tameable mobs - Gelada for now
Will Gorilla and/or Chimpanzee ever be added - no
Credits
Fedrex - most models
HugoMage - Coding
Pyrocide - Sound Design and item textures
itisbeez - orangutan model
Noon - gigantopithecus model