A Mod That Has Plenty Of Biomes And Dimensions! I hope You Enjoy!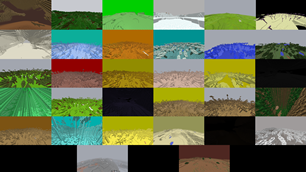 CONTENTS:
Glass Breaker - a Tool With The Ability To Break Glass Instantly.
Hand Cannon - a Weapon With The Capability To Fire Cannon Balls at A Wide Spread of Range.
Lapis Sword - a Low Damage Sword With EXTREME Enchantibility
Stone Miner - a Personal Miner Inventory With The Ability to Mine Without Leaving The Comfort Of Your House!
Wood Chopper - Same as a Stone Miner It Just Doesent Mine It CHOPS Wood!
Creative Tool - A Tool That Can Litarally Destroy ANYTHING (Except BedRock And Of Course Water and Lava) But It is Limited To ONLY Creative Mode!
Worm - Just A Joke But You can Eat it.
Cloud - A Generated Structure That Hold A Few HelpFull Goodies!
Chicken nugget - just a small chicken nugget to add to the mod
Crusher - Used for crushing multi nuggets into multi ingots
Multi nugget - Crush this into a multi ingot
Multi Ingot - Craft four of these in a crafting table to make a multi block
The Recipe's Are Kinda Easy You Could Probably Find Them Out On Your Own But I Recommend You Would Use JEI (Just Enough Items) To Go with It
Do not post any of my mods on another website without my permission!
Don't Forget To leave a Comment Have A Nice Day!
Don't Forget About My Huge Variety Of Biomes!