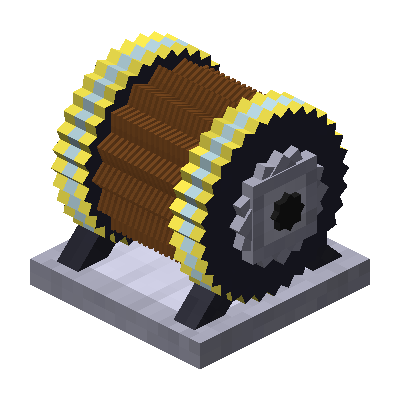 ElectriCraft
ElectriCraft adds a new way to transport and store RotaryCraft power. Like ReactorCraft, this mod is dependent on RotaryCraft.


ElectriCraft adds electrical motors and generators, as well as several tiers of wires. It follows a simplified version of the behavior of real-world electricity, where voltage and current are two distinct parameters, making this power system 3D like that of RotaryCraft. Voltage is generated by rotational speed, while current is generated by torque into the generator. Higher currents can melt wires that cannot handle it, while voltage is lost over distance proportional to the wire resistance.


ElectriCraft also adds batteries to store power; they charge from the sides or below, and can emit power from the top when given a redstone signal. Each tier has a greater storage capacity and a greater (fixed) output than the last.


ElectriCraft also adds two wire control devices. Resistors act as current limiters, allowing for unequal distribution of power. To change the value, dye the three bands according to standard resistor color codes.
Relays act as redstone-controlled switches.