--------------------------------------------------------------------------------------------------------
This mod brings many new awesome mobs to your warm biomes. We are still working hard on this mod to give you the best possible experience! Find mobs like the wombat and ostrich just to name a few. We are so excited to see how people like this mod. If you wanna know what some of the mobs do talk to us at my discord server (link below) and we will be happy to tell/help you!
👾 Discord:
Join my Discord server to suggest features, report bugs, and much more: https://discord.gg/DmPZVatNS9
📝 FAQ
Q. Can I use this mod in a modpack or video?
A. Yes! Feel free to feature Creatures From The Warmths in your modpack or video.
Q. Can I repost your mod?
A. NO! You cannot repost this mod on any other sites.
Q. Will there be a port to Forge?
A. forge version is planned, but I do not have a confirmed release date yet.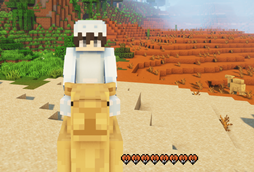 --------------------------------------------------------------------------------------------------------