Hey, stranger! Welcome to our super secret laboratory!
Our scientists discovered that advanced materials like [Advanced Alloy] (IC2 wiki link) open big possibilties in making durable weapons and armor. And you are a lucky one who can receive technology of making them!
---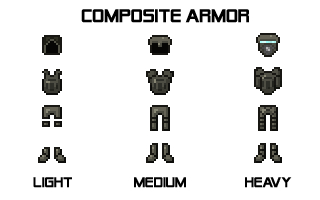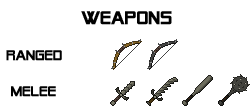 More under spoiler:
Almost every armor and weapon colorable in our mod!
New Armor:

Padded Armor
Composite Faceplate
Respirators & Gasmasks


Scuba helmet counterpart. Will refil your oxygen with air cells while diving.
Have 4 variations (half-mask, mask, reinforced mask and rubber gasmask)
Decorative Clothes (all of them colorable)

Warm (compatible with TAN)


Balaclava Mask
Ushanka Hat
Wool Jersey
Wool Pants
Felt Boots

Shemagh Mask

Flexible configuration possibilities.

Any of mod armor/weapons recipes can be disabled with a configuration file!
In mod versions for 1.12.2 you can even edit any of mod recipes because mod uses JSON recipe system introduced in Minecraft 1.12. So json files sitting inside of mod jar. Feel free to make resourcepack and remake all the recipes!
Also you can disable enchanting for weapons & armor added by mod.
For most detailed information about items (stats, numbers, etc.) you can check out mod wiki (link is on top of page).
---


(Loot Tables) Add armor and weapons as dungeon chest loot.
More Weapons (both range and melee)


Crossbow
Composite Anvil Mace (not a joke)

More Armor and Clothes

Light Armor
Heavy Armor
Suicide Bomber Vest

Modular armor.
Make vanilla armor useless without actually modifying it. I.e. make it inefficient against new weapons. DIEmond armor should DIE! :)
Make the mod more standalone and recipes compatible with more mods.

Priority - Immersive Engineering.

More complex crafting recipes.
(Optional) HUD for respirators & gasmasks.
(Optional) Armor repairing with a shapeless recipe with alloy plates. Vanilla repair with anvil and experience should die!
Advancements (1.12.2+)
(Optional) Backstabbing with a dagger (damage bonus).
??? 3D Models for Respirators (1.12.2+)
??? 3D Models for Armor (1.12.2+)
Official resourcepack with x32 textures for items.
---

NOTE: All mods are optional! Integration features are toggleable in config for every mod!
Recommended to install at least one tech mod: IC2, TechReborn, ImmersiveEngineering or ThermalFoundation. Otherwise most of items won't be craftable.
---


1. You are not allowed republish the mod on any other sites without providing link to Curse project page or my IC2 forum thread.

2. You can include this mod into any modpack. Don't ask me.

But if you publish your modpack somewhere it could be cool if you include link to project page just to let people come here to read some information about this mod.
---


YOU CAN VISIT IC2 FORUM THREAD FOR MORE INFORMATION: LINK

Integrated with mods: