Replaces the flawed vanilla Zombie Siege mechanic with improved and adjustable version (see in-game mod Config).
Siege can be disabled altogether or set to spawn crazy number of zombies (up to 300 per siege) without getting them stuck inside half-blocks and farm fields. Sudden lightning over spawn area can alert players that something is going on.
You can customize the settings, such as mob count, chances, distance, etc., within the game (Mods button in the game menu). Settings will apply immediately, you don't have to restart the game. Alternatively, you can edit the configuration file BrutalZombieSiege.cfg
You can manually trigger a Zombie Siege event using console (chat) command (*new in 1.0.3*):
/zombiesiege
You need to be inside a village. In single player, command works in Creative and Survival mode with cheats enabled. In multiplayer, it works for admins with level 2 or higher.
Mod is built for Minecraft 1.12.2 but should work on all 1.12.x Minecraft versions running Forge. In multiplayer environment only the server is required to have the mod installed. To install it, simply put it in Minecraft's "mods" folder.
Feel free to use it in any modpack.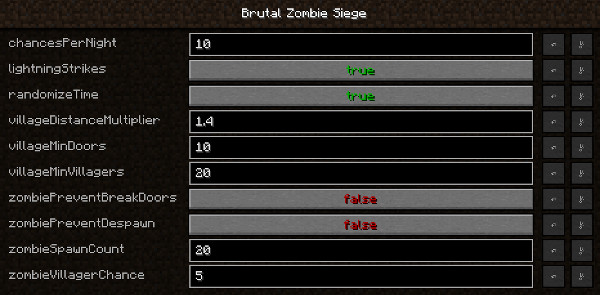 -------
My other mods: Mob Control Wands