BisectHosting Server Integration Menu [FORGE]
Introducing the BisectHosting Server Integration Mod, exclusively designed for our Official BisectHosting Partners! This unique mod enables our partners to easily embed their partner links into the multiplayer menu of their modpacks. This functionality, developed with user-friendliness in mind, allows partners to gain commissions that support their projects and strengthen their community, all without spending unnecessary time on complex menu editing.

With v2.0, partners can now feature their official server on our public server list, enhancing the visibility of their modpacks and encouraging the community-centered spirit inherent in Minecraft. Moreover, we're planning to integrate more social features into this mod in future updates.

Keep in mind, this mod is specifically created for our partners and is meant to enhance their modpacks. It's not adware or an unwanted intrusion. If you've encountered this mod in a modpack and prefer not to use it, you can easily remove it without affecting the functionality of the modpack. It's designed to enhance your experience, but your preferences always come first.

If you're interested in becoming a BisectHosting partner yourself and want to enjoy all the fantastic benefits we offer, don't hesitate to apply for our Partnership Program. We're passionate about supporting those who make this amazing Minecraft community thrive!
This mod is intended for BisectHosting Official Partners.
Apply for the Partnership Program.




This mod isn't just an integration mod – it's equipped with some pretty amazing features:


📌Public Server Lists - This feature empowers BisectHosting customers to make their modded servers publicly accessible, inviting anyone to join!
📌In-Game Server Ordering - Streamlining server acquisition, players can now purchase servers directly from the launcher, with the ability to customize RAM, player slots, and much more!
📌Automatic Modpack Detection - Our system intuitively detects the modpack in use and proposes the best-matched server plan! As a BisectHosting Partner, every server purchase stemming from this mod earns you commission!


You can find your Partner ID and Modpack ID by visiting the partner dashboard.
(You must log in to the billing panel to authenticate webpage)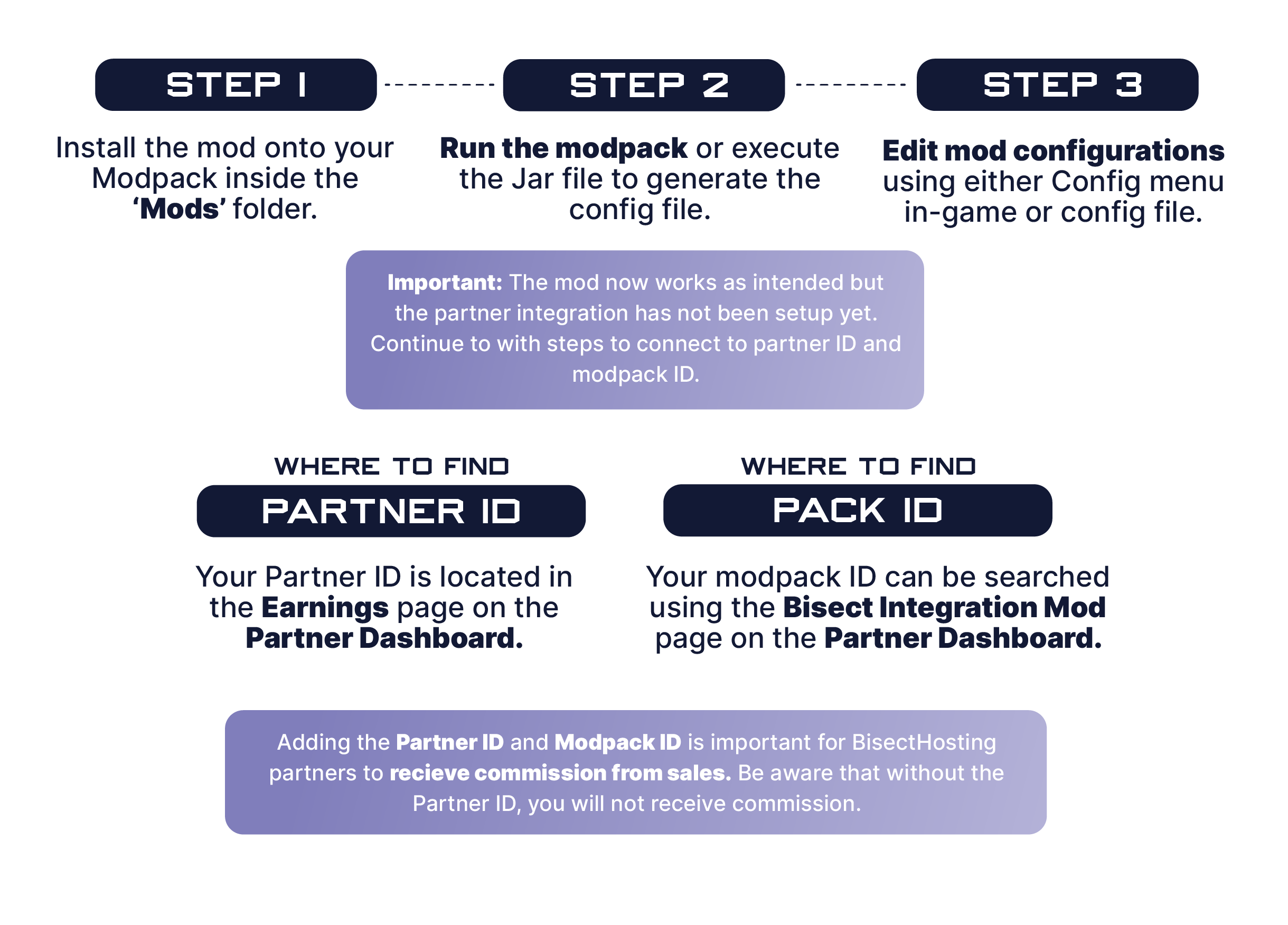 1️⃣ | Step 1. Install the mod onto your Modpack inside the 'Mods' folder.
2️⃣ | Step 2. Run the modpack or execute the Jar file to generate the config file.
3️⃣ | Step 3. Edit mod configurations using either Config menu in game or config file.
🧷 | Where to find Partner ID: Your Partner ID is located in the Earnings page on the Partner Dashboard
🧷 | Where to find Pack ID: Your modpack ID can be searched using the Bisect Integration Mod page on the Partner Dashboard.




The BisectHosting Integration mod is a combination of custom multiplayer oriented features for your players to purchase servers, list servers on our public server list, and suggest the best plan based on the modpack being played.
The mod takes your Partner ID and Pack ID (partner information) and suggests the best ram and plan for players to start a server in the matter of minutes. Once a server is purchased, the partner will receive commission based on their partnership agreement.

Questions? Contact your designated Partner Manager.

Need help?
❓How to setup the BisectHosting Server Integration Mod❓
❓How to enable Public Server Lists for a modpack❓
❓How to add a modpack server to the Public Server List❓