Golden apple and golden carrot are not enough, Minecraft players have a lack of interesting and fun food.
Apples & Carrots is a fabric mod that will fix this problem, giving you several new items with effects.
This is a Fabric version, but you can find Forge Version here:
Apples & Carrots - Mods - Minecraft - CurseForge
You can craft Apples made of minerals.

Or craft Carrots made of... nuggets of minerals?

Yup, this mod also adds more nuggets, but don't get nervous, all of them can be used like fuel, this way you won't have some useless nuggets messing around. (you're going to need a bunch of those)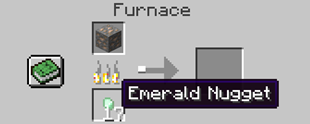 Now, what can you expect from each item?
Discovering the effects of an apple or a carrot is an adventure, but here is little description:
Coal apple/carrot: Get a boost in your cave.

Iron apple/carrot: Defend yourself.

Copper apple/carrot: Electricity flows on you.

Emerald apple/carrot: Villager's favorite.

Lapis apple/carrot: Lucky player.

Obsidian apple/carrot: Become the greatest defender.

Diamond apple/carrot: War machine.

Netherite apple/carrot: War machine II.

Creative apple/carrot: Minecraft God.
So, What are you waiting for? Start your journey today and create a new story with this fun mod.
Notes:
Please always download the latest version.
Feel free to add this mod to your modpack!
Ads:
Try out my other mods:
Copper Armor & Tools [Fabric] - Mods - Minecraft - CurseForge
Enchanted Meat - Mods - Minecraft - CurseForge
Minecraft Server Hosting: