Animalistic (ANM) - is a small, adorable mod with animals and a cute artstyle! I mean... You can't ask for more! At the moment, it adds 15 mobs! And we're planning to continue the mod, so you could continue enjoying new and new adorable mods!
note from Vlada: Hamza makes so much work, I am proud of him! :3



CAUTION: MOD HAS OVER 7000 DOWNLOADS FOR NO REASON!! WE DON'T KNOW HOW TO FIX IT!! AND CURSEFORGE HELP DOESN'T REPLY!! THANKS FOR UNDERSTANDING. (actual amount of downloads is the one you can see minus 7000)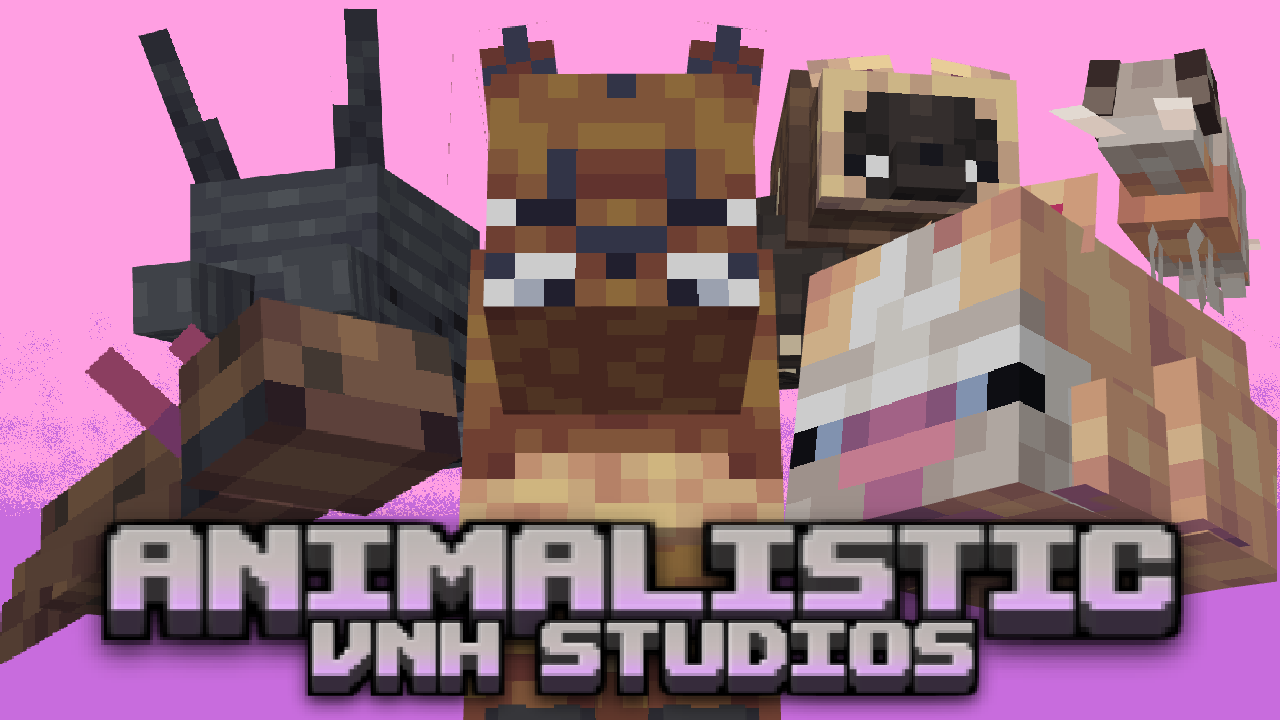 CREDITS:
Hamzaa - coding, animating
Piedyslava(VladPies) - art, logo
THIS MOD NEEDS GECKOLIB!
DISCORD:
Official discord server of VnH studios with leaks and updates

Mobs!:

ANM 1.0:
Caracal:


HP: 20
Damage: 4
Food, can be bred with: Dumpling
Spawn: Savanna
cooking with Floppa
Cavy:
HP: 10
Damage: 4
Variants: American, Merino, Peruvian, + 3 Easter Eggs
Drop: Raw Cavy Meat
Food, can be tamed with: Beetroot
Spawn: Warm mountain kinds
Krill:
HP: 3
Drop: Raw Krill
Spawn: Cold and regular oceans
Wolverine:
HP: 18
Damage: 8
Spawn: Snowy biomes
rip Logan
Giant Sea Hare:
HP: 6
Spawn: Rocky Beaches
Specials: Gives mobs that hit it Sticky Toxin effect
Mudpuppy:
HP: 3
Variants: Brown, Golden(rare)
Spawn: Rivers and Swamps
ANM 1.1:
Olm:
HP: 10
Spawn: oceans and rivers
Special: feeding it salmon will give you the sensing effect which blinds you but makes mobs around you glow
Variants: white, pink, gray, blue(rare)
Cockroach:
HP: 5
Spawn: All biomes but only in darkness
Special: dances when a jukebox is in a 4 block range
Drop: deceased cockroach(can be made into a roach on a stick which can be cooked), roach antennae(can be used to craft a potion or an awkward potion)
I wonder what cartoon i saw 3 of these in ?
Sloth:
HP: 20
Spawn: Jungles
Special: drops hair algae when grown up which can be used as food
Turkey:
HP: 15
Spawn: Savannas
Drop: Turkey meat(can be cooked), turkey feather(can be crafted into 4 normal feathers
what country name was this again?
Echidna:
HP: 10
Spawn: Badlands and deserts
Special: If you come close to it it will give you the spiked effect which damages entities by spiking them
Drop: Echidna Spikes(can be combined with a wooden sword to create a sword that gives the spiked effect on hit)
a friend of sonic the hedgehog i see
ANM 1.2:
Burrowing frog:
HP: 10
Spawn: Deserts
Special: Burrows in the ground and comes out when it touches water
Capybara:
HP: 20
Spawn: Swamps
Special: can be ridden and saddled, can be controlled by a melon on a stick
Food: bred with melons
Ok I Pull Up
Hippo:
HP: 80
Spawn: Swamps
Special: Sleeps and gets muddy when sleeping, you can sneak right click on them while muddy with a netherite hoe to get mud which can be made into pants
Food: Bred with grass blocks
Vlada isnt that fat
Chinchilla:
HP: 10
Spawn: warm hills, mountains and deserts
Special: can bathe in the sun with dirt or sand, it can beg for food when the player is holding seeds, if you feed it it will give you fur which can be either made into a block or a coat
Food: can be tamed with seeds
Items & Foods!:
Dumpling
Raw Cavy Meat
Cooked Cavy Meat
Raw Krill
Cooked Krill
Krill Sandwich
Krill Bucket
Mudpuppy Bucket
Roach Antenna
Deceased Roach
Roach on a stick
Cooked Roach on a stick
Raw Turkey
Cooked Turkey
Turkey Feather
Avocado
Hair Algae
Echidna Spikes
Spiky Sword
Melon on a stick
Mud
Muddy Leather Pants
Chinchilla Fur
Chinchilla Fur Coat
Effects!:
Sticky Toxin
Hurling
Spiked
Sensing
Amazing Review of the mod by SIlentPrice: