This mod adds new 43 fishes, recipe for luck potion, new "Blazing Fishing Pole"(which can be used for fishing in lava) and overrides fishing mechanics. All of the new and vanilla fishes can be catched only in own types of biomes, dimensions and liquids.
Fishing catch:
Catch in desert savanna & mesa:
Cod
Squid
Sandy Bass
Golden Koi
Sunfish
Catch in jungles:
Cod
Squid
Piranha
Sparkling Ell
Mandarinfish
Catch in swamps:
Cod
Squid
Ruffe
Mud Tuna
Swamp Plaice
Catch in snowy biomes & taiga:
Cod
Squid
Snowy Walleye
Frost Minnow
Glacier Anchovy
Catch in oceans and beaches:
Blue Jellyfish
Angelfish
Squid
Puffer
Clown Fish
Sponge Eater
Additional catch in deap ocean:
Abyssal Lurker
Angler fish
Catch in other owerworld biomes:
Cod
Squid
Salmon
Catfish
Pike
Explosive Crucian
Catch in mushroom biomes:
Cod
Squid
Salmon
Catfish
Pike
Red Shroomfin
Brown Shroomfin
Catch in dead biomes(there aren't such biomes in vanilla minecraft):
Green Jellyfish
Bone Fish
Cursed Koi
Spookyfin
Rare catch in the caves:
Specular Snapper (at the depth of 50 blocks)
Cave Trout (at the depth of 40 blocks)
Crystal Mullet (at the depth of 25blocks)
Charged Bullhead (at the depth of 25blocks)
---
Catch in the End:
Ender Shad
Pearl Sardine
Chorus Koi
---
Catch in lava:
Obsidian Bream
Magma Jellyfish
Wither Skull
Catch in lava(only in the Nether):
Nether Sturgeon
Magma Jellyfish
Quartz Chub
Fungi Catfish
Withered Crucian
Flarefin Koi
Blaze Pike
Wither Skull
Blazing Fishing Pole:
This item can't be crafted. There are two ways to obtain it - to find it in the Nether Fortress chests or catch it in the lava.
Luck potion recipe: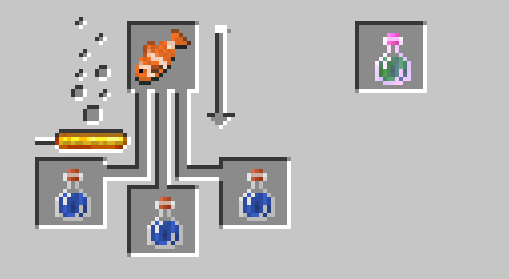 Crafting recipes:
Link to Minecraft forum thread.