Warning: unmaintained

This plugin is no longer being maintained. While it may currently work, there's no guarantees that it will keep working in the future.
Features
Customize the text over a mob head (name, health and max health)!
Customize the health bar for players, prefix + suffix, on the name tag, and for players (see the customization page)
Option to always show health bars
Health bars disappear after a configurable time
No Spout or client mods required
Easy drag and drop install
World selection for mobs and players
Will notify the console when an update is released on bukkit dev (on reload) and players with permission
Shows amount of health below the player's tag (With configurable name, no health bars there. Why?)
Shows on custom named mobs and restores the name after the bar has disappeared.
Image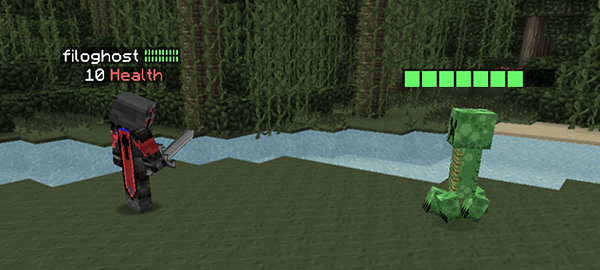 Compatibility
This plugin is compatible with:
EpicBoss Gold Edition (set hooks -> epicboss: true)
MobArena (set override-other-scoreboard: true)
McMMO (use the latest version, it will be fine)
Citizens (you can't turn off the health for citizens, under the name, because it's displayed on all the human entities)
Permission Health
Sentry for Citizens (v1.3.7+)
Heroes (use latest version)
Not compatible with:
NametagEdit - may crash players, alternative plugin: Colored Tags
Other plugin that uses the scoreboard (but if the use the main scoreboard, you can try to turn off permission and world disabling to make them compatible)
TagAPI (It could make players show 0 HP and hide team names; works with mob health bars)
Video tutorial
More languages:
Portuguese by AbsintoJ

Other videos:
youtube.com/watch?v=UzluUffNN-o by Techhut
youtu.be/WCnYzl8kQbc by Ultibyte
youtu.be/jYl5I8d9NGU by Failboat103