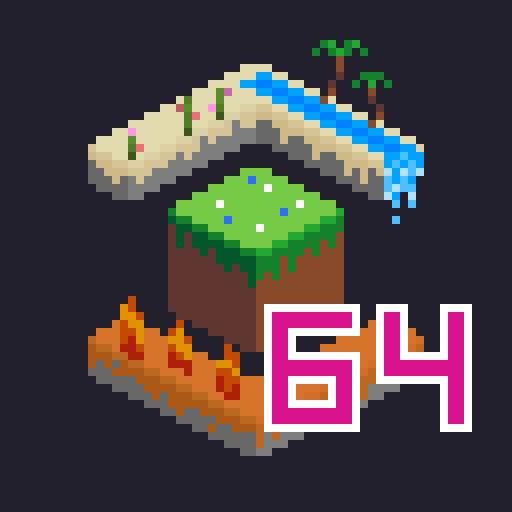 Faithful 64x: Bedrock
Description
The go-to 64× resource pack for Minecraft.
---
Ever since 2010, Faithful's goal has been simple: Provide a higher-resolution version of the default Minecraft textures, while still preserving the vanilla look and feel. Created by Vattic and maintained by numerous followers, Faithful is completely free and open-source for everybody to enjoy on Minecraft Java, Bedrock and Dungeons.

Faithful is also fully community-driven, meaning all textures are provided by volunteering contributors working in their free time. If you'd like to help out by drawing missing textures, or if you want something changed about the pack, you can become one too! Simply join our Discord server using the link below so you can get started at making and submitting a texture. Before you begin, make sure to read our guidelines which precisely outline the art style of the pack. Prefer Vattic's original art style? Check out our sister project, Classic Faithful!
Want to expand beyond the features of the vanilla game? Faithful offers a wide range of add-ons and other expansion packs made by our loyal fans. Take a look at them here on our website! If you want to make an add-on yourself, join our Discord using the link above to receive more information.

If you have any feedback or suggestions, feel free to leave them below. If you've found a bug, report it by creating an issue on one of our GitHub repositories.
---
Short note about the history of the pack
Until recently, this particular pack was called Compliance. Initially, Compliance started as a breakaway project from Kraineff's Faithful, due to disagreements unrelated to the branding and ownership of the pack. At that time, Kraineff had been presenting his pack as the only successor of Vattic's Faithful. It's worth mentioning that Kraineff was able to do this since at the time, Vattic had been absent from all social media for well over four years. Eventually though, we managed to regain contact with Vattic and subsequently learned that Kraineff never got permission to continue Vattic's pack or take the Faithful name. If you want to learn more about the situation, watch this video.
After further talks with Vattic, we received his permission to officially continue the pack he started, under the Faithful name. As such, we have decided to rebrand Compliance into the official Faithful.
Unfortunately, Kraineff still maintains his pack on the Bedrock marketplace, and still uses the Faithful name there. Vattic has filed a DMCA takedown notice, but as of the writing of this post he hasn't received a reply from Microsoft yet. We hope that us taking the Faithful name everywhere else will speed up the takedown process. For the time being, do not buy Kraineff's pack on the marketplace, and spread the word.
---
Sister projects