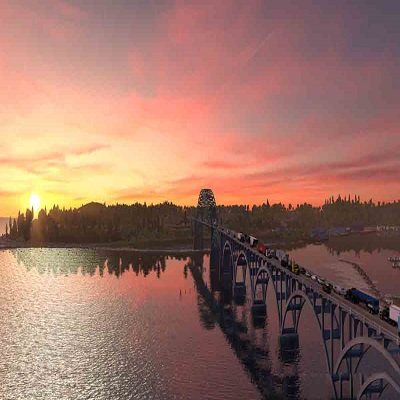 Realistic Graphics m
This mod improves ATS graphics for better realism.
– 70 Realistic skybox textures in 4K resolution
– Realistic light flares & reflection effects
– Realistic & vibrant colors
– Realistic terrain textures
– Realistic rain & thunder sounds
– Realistic raindrop effects(inside of trucks)
– Realistic water textures
– Realistic cloud shadows
– Realistic climate events (fog, wind, rain)
Note: "Color Correction" option in the graphic settings must be active when using this mod.
Tip 1: To disable bloom effect, use the No-Bloom add-on.
Tip 2: For high quality skybox textures, set "Texture quality: High" in the graphic settings.
UPDATE NOTES
v4.0 released. Changelog;
– Now fully compatible with ATS's 1.36 update!
– Adapted textures to DirectX 11.
– Improved quality of all sky textures.
– Improved quality of light flares.
– Improved night graphics and moon visibility.
– Improved visibility of chrome vehicle parts.
– Decreased visibility of vehicle light reflections for daytime.
REQUIRED GAME VERSION
v1.36.X
Disclaimer
This project was transferred with no original owner.
If you claim this project as your own, and can provide sufficient proof of that, please contact us via this form.
https://forms.monday.com/forms/52cb329380