Cozy Comforts will start downloading in 5 seconds...
STILL DOWNLOADING MANUALLY??
Join over 10 million players who use the CurseForge app!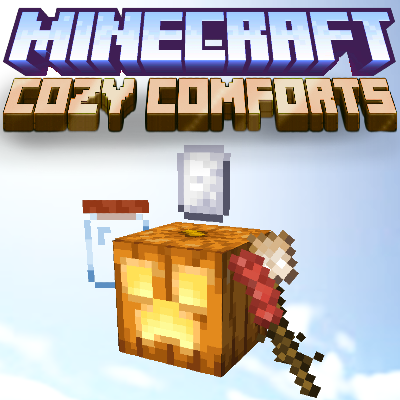 Cozy Comforts
Description
This mod is still in beta, bugs and glitched features might occur. The best way to help is to comment on the issues page or comment below.
Cozy Comforts is a camping mod that introduces many new types & sorts of camping gear and blocks. Have fun telling ghost stories around a bonfire and building eerie dwellings with your pals, camping in the huge wilderness, and having fun exploring your environment with amazing new equipment. ( This mod will get regular updates when possible to update to the latest version of Minecraft )

If you need more information about the mod just go to the wiki page, it features all of the mods features for the latest version right now Cozy Comforts Wiki
If you see any bugs or feel like a feature is not working or is working weirdly feel free to comment it below OR tell me on the issues page Cozy Comforts Issues Page
Some of these tools include:
Rope

Water Bottle

Sleeping Bag

Glass Jar ( to place down any jar just crouch and right-click the ground )

Sandwiches ( to place down any sandwich just crouch and right-click the ground )

Smores

Marshmallows

Hotdogs

Cooking Pot

Designed Carved Pumpkins
Check out these Mod reviews that included Cozy Comforts!
If you would like to see updates, cool features, past updates, and more!! Check out my Discord Server
If the link doesn't work use this code ( x7kXXDs4sm )