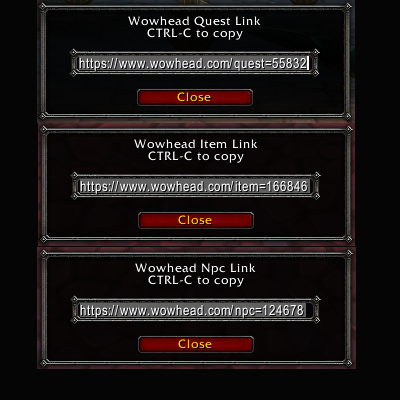 Wowhead Quick Link
Description
Wowhead Quick Link
Mouse over and press CTRL-C on (almost) anything to generate a Wowhead or Armory link. Allows you to quickly look up anything on Wowhead without having to manually search for it. Lightweight and efficient.
Supports generating links to the Wowhead page for quests, achievements, items, spells, buffs, NPCs, mounts, battle pets, factions, or currencies by pressing CTRL-C while mousing over, as well as armory links for player characters.
Now also supports Raider.IO links by pressing CTRL-SHIFT-C.
Configuration
The default keybind CTRL-C can be changed in Key Bindings -> AddOns -> Wowhead Quick Link -> Generate Wowhead link.
The link can be customized with a prefix and suffix by typing /wql, to e.g. change to the German version of Wowhead (de.wowhead.com), or go directly to the comments section (wowhead.com#comments).
Suggestions and feedback are welcome!