WoW Challenger will start downloading in 5 seconds...
STILL DOWNLOADING MANUALLY??
Join over 10 million players who use the CurseForge app!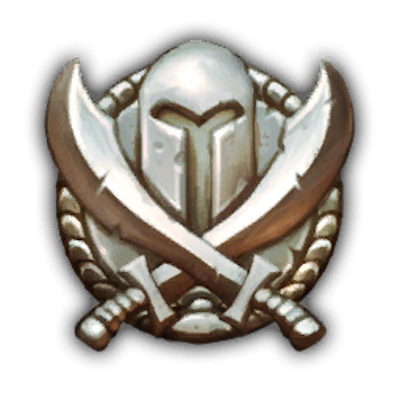 WoW Challenger
Description
Discord: https://discord.gg/cc5TGnd
WoW Challenger
The goal of WoW Challenger is to motivate players to accomplish world quests, hard achievements, find secret mounts, pets and transmogs by tracking their progress.
There are 4 different pages in this addon:
Page 1/4: RPG Mini-Game. Complete the daily quests and world quests that the game offers to progress in your campaigns. You will play a character fighting against enemies. For this, you can improve his abilities and unlock appearances. You can see what it looks like with the video below.
Page 2/4: This page explains how to complete hard achievement in the game by tracking your progress with an intuitive interface and tips. Actually, there are 7 achievements to complete in this addon.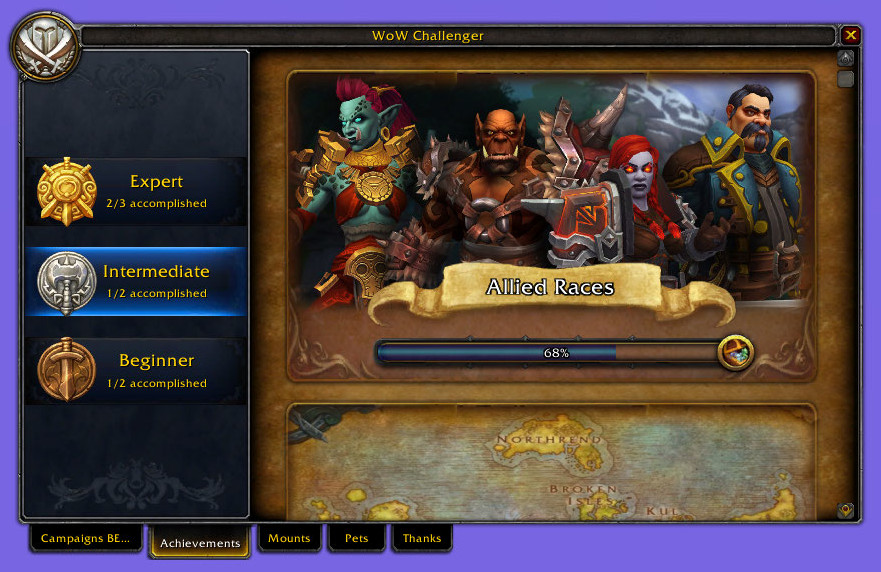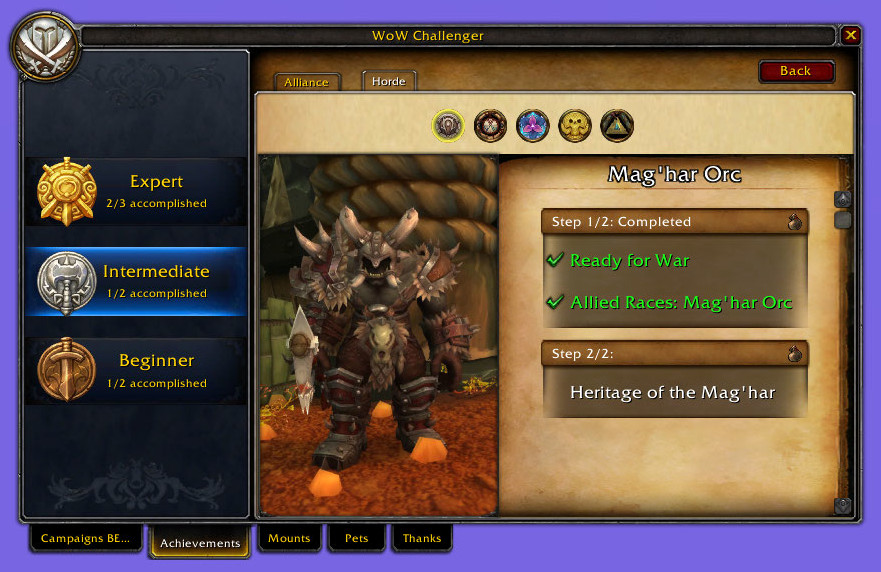 Page 3/4: This page explains how to have hard/secret things like achievements/mounts/pets/transmogs in the game. The addon is made to make your search as easy as possible so you don't waste time. There are more 50 guides and you can create yours by download this expansion: WoW Challenger Creator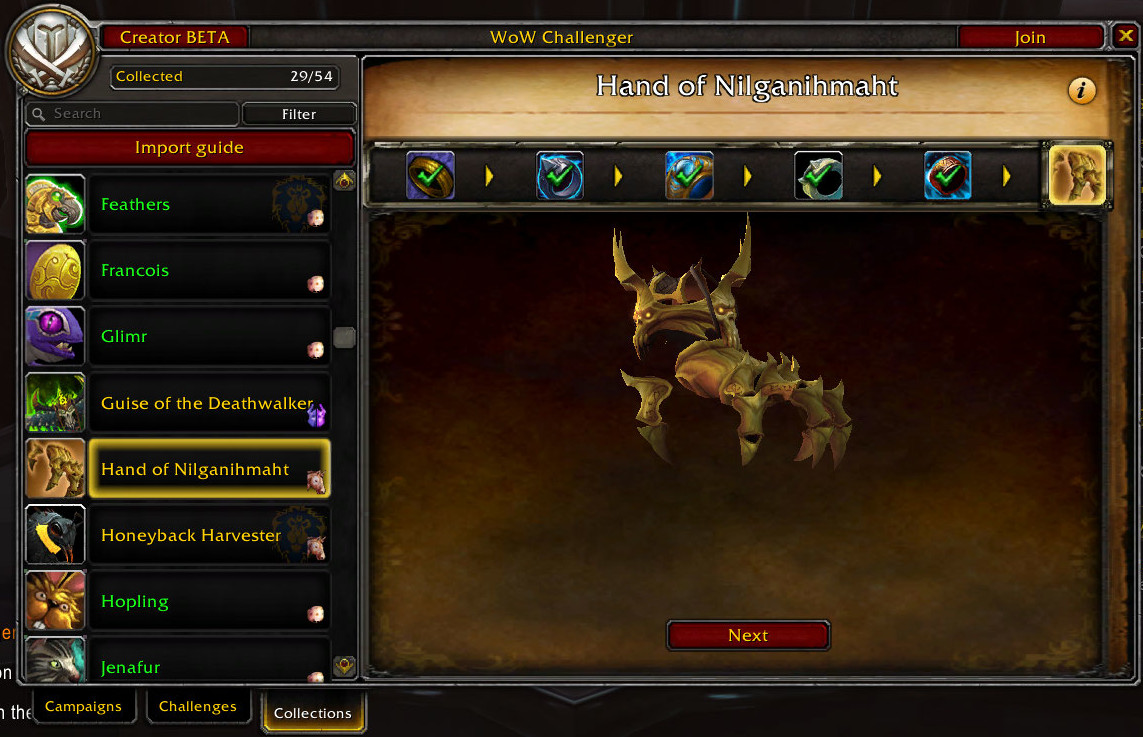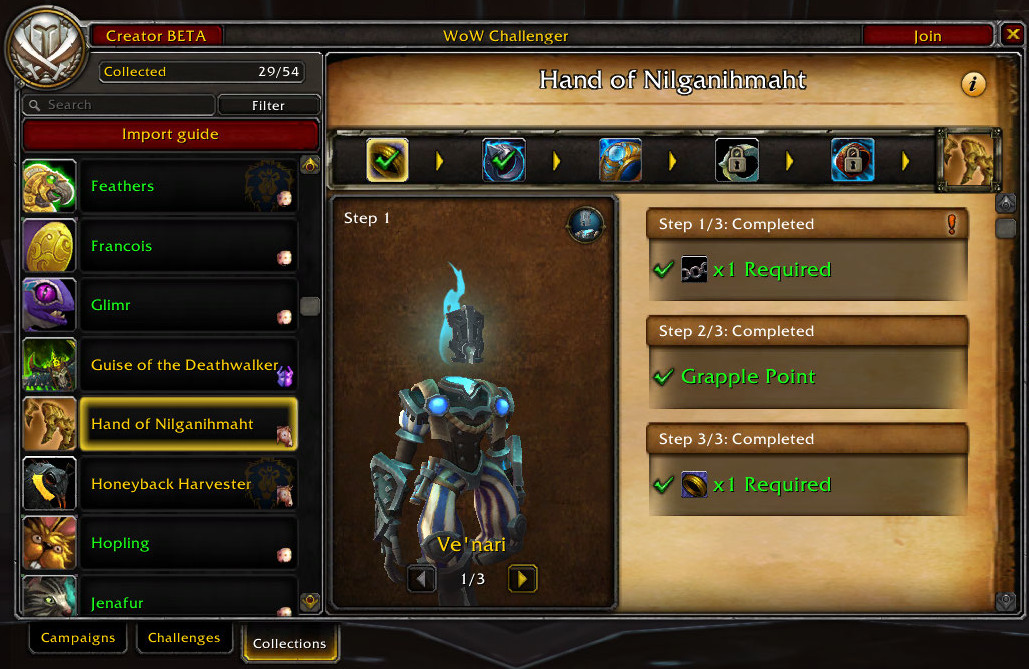 Page 4/4: Ranking page where you can see your addon score by comparing it with members of your guild and people you meet.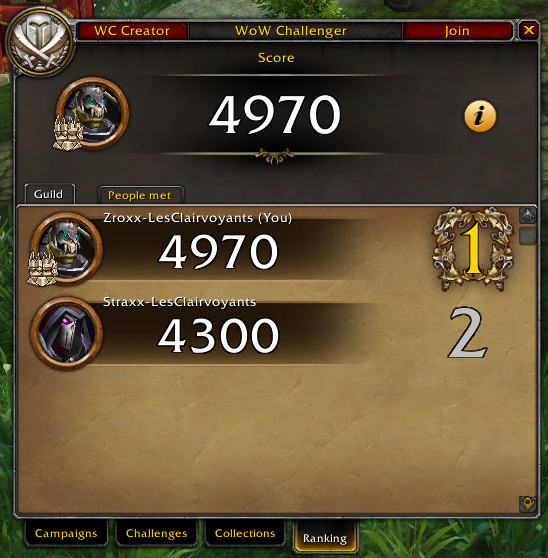 You can have unique profile by supporting in Patreon (Uncommon/Rare/Epic/Legandary profile) :




More information about the addon...

Available in 7 languages (English, French, German, Italian, Spanish, Portuguese, Russian)
RPG mini game
Very intuitive interface
Follow your progress in live
7 challenges
15 secret mounts
11 secret pets
26 transmogs
Custom textures, icon and pictures
Progress bars that show the progress of the challenge
Icon that show current challenge rewards
Challenges are seperate in tab and in step
Tips for challenges
Show/hide on your world map a position of a mob/item/other
When a mission is completed,

appears

in green with a check
Quick Start
To open the addon, type /wc or /wowchallenger into your chat and hit enter or use the minimap icon.
Type /wcmapon to show the minimap button.
Type /wcmapoff to hide the minimap button.
Bugs and Improvements
Do not hesitate to send me what can be improved, and ideas for new contents.
BUG REPORT ONLY HERE: https://www.curseforge.com/wow/addons/wowchallenger/issues AND ON THE DISCORD.