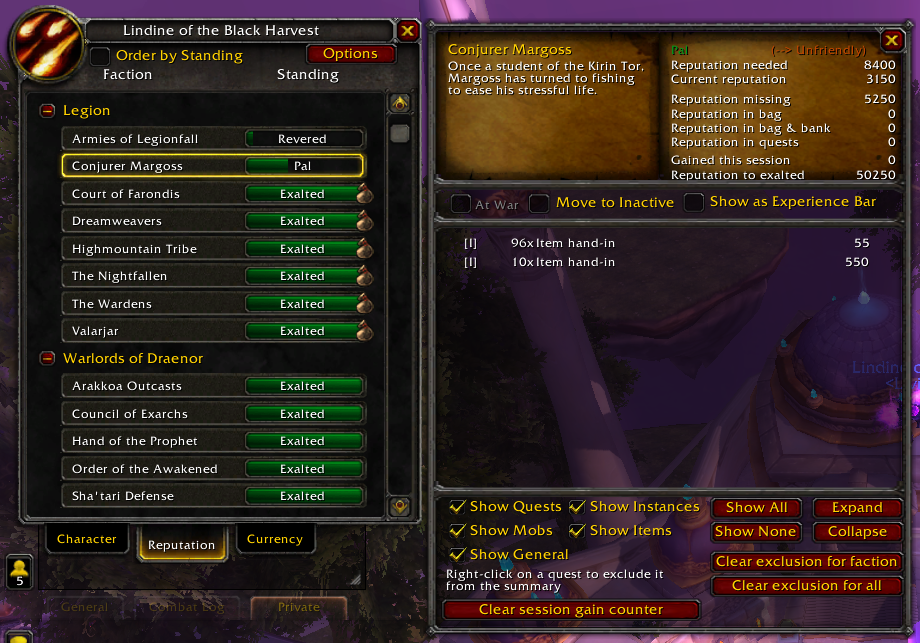 RepHelper
Description
This addon is no longer being maintained
RepHelper
A World of Warcraft addon to help you manage your reputation and Factions.
WoW Classic
Data for most if not all factions should be available but it needs to be double-checked for any incorrect or missing data.
If you do come across any issue please feel free to open an issue on GitHub so it can be fixed.
History/Base
This addon is initially based on the out-dated addon Factionizer.
Factionizer on Github: https://github.com/gOOvER/Factionizer
Factionizer on Curse: https://mods.curse.com/addons/wow/factionizer
Thank you to all those who contributed to the previous addon in any way.
Information Sources
Contribute
Contributions/Suggestions and bug reports/fixes to the addon are always welcome, to contribute you can make a pull request or simply open a new issue.
Features
This addon is made to help you reach Exalted with your factions by giving you calculated tips on how to obtain the rep most efficently.
Commands
/rph help
License
GPLv3: https://www.gnu.org/licenses/gpl-3.0.en.html or see the license file