Raid Roll Remaster will start downloading in 5 seconds...
STILL DOWNLOADING MANUALLY??
Join over 10 million players who use the CurseForge app!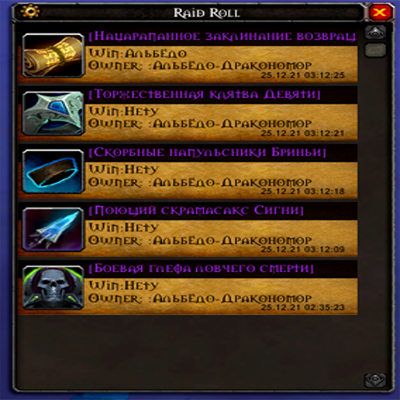 Raid Roll Remaster
Description
Raid Roll Remaster – This lightweight add-on will completely streamline loot trading in dungeons and raids. Never miss a piece of loot you need again because it disappeared into your chat log!
Raid Leaders: When a player whispers you a piece of loot, this add-on opens a window with an option to "Start Rolling." End the roll, and the add-on announces the winner, and whispers the person offering the piece to trade the winner. If the roller or raid leader decides to give the item to someone other than the winner, they can use this button to award it to someone else along with a reason for the choice.
For players rolling on a piece they cannot use (wrong gear type or class for legacy items), an error will display. The add-on alerts you if someone tries to roll twice, and only displays the first roll. In the event of a tie, it prompts both players to re-roll.
By default the roll tracker will appear whenever someone says an itemlink in raid warning or when someone says the word "roll" with an itemlink in the same sentence. It will then track any 1-100 rolls made within 60 seconds of the announcement. By default it hides all other types of rolls and duplicate rolls
Commands
/rr - Raid Rolls
/rr add [Itemlink] - Raid Rolls (includes the itemlink when announcing winner)
/rr show - Shows the roll tracking window for the leader
/rr list - Shows the roll tracking window not for the leader