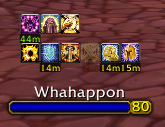 FirstSS.png
Spells on top of nameplate.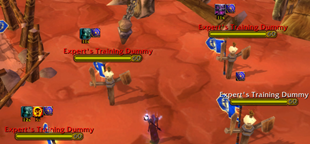 SamePlateNames.png
PlateBuffs can distinguish which nameplate belongs to what mob even if the share the same name.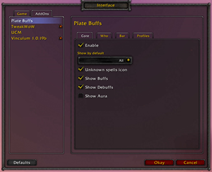 CoreOpts.png
Enable / Disable the addon.
Show by default All / Mine / No buffs.
Show question mark above unknown nameplates.
Show buffs
Show Debuffs
Show Auras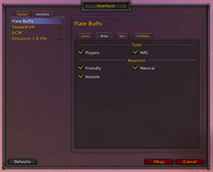 WhoOpts.png
Who to put buffs on top.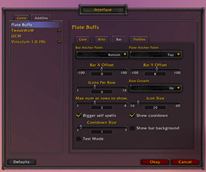 BarOpts.png
Anchor point settings. By default bar's shown ontop of nameplate.
X/Y offset.
Icons per row.
Number of rows to show
Icons size
Make your spells appear 20% bigger then other's spells.
Show cooldown text.
Cooldown text size...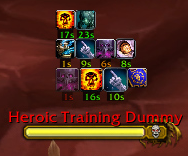 TwoPriests.png
Two priests casting on target dummy. My spells are first and bigger.
AloftFrame.png
PlateBuffs should work with Aloft nameplates.

ThreatPlateFrame.png
PlateBuffs should work with Threat Plates nameplates.

TidyPlateFrame.png
PlateBuffs should work with Tidy Plates nameplates.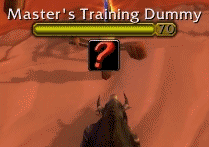 Animation1.gif
PlateBuffs in action.

caelNamePlates.png
PB should work with caelNamePlates. Let me know if there's problems.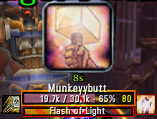 CustomSpellSize.png
Here I've set a paladin's bubble to have a huge icon. I then know exactly where to mass dispel.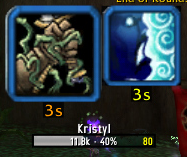 ImportantSpells.png
By default, CC spells have huge icons.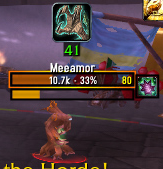 Nature_sGrasp.png
Careful melee classes, if you hit him you'll get rooted!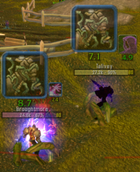 RootsOnNameplates.png
See a enemy that's been rooted/CCed? Above his head the CC spell will appear with a countdown.