NeedToKnow_InUse.jpg
NeedToKnow in use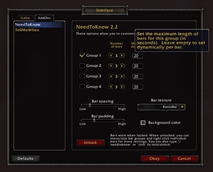 settings.jpg
general settings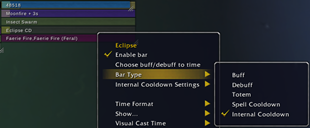 NTK_Boomkin_Config.png
What "Balance in action" looks like when the bars are unlocked. Note that there are two eclipse bars stacked on top of each other to get eclipse to show up in two different colors based on the spellid.
(taken with NTK 3...

NTK_Boomkin_Eclipse.png
In use by a Balance Druid, showing off Eclipse (tracked by spellid), the eclipse cooldown (an internal cooldown), and the balance debuff/dots. The bars are set to deplete at the same rate by setting the max bar duration. It is e...