Easy Obliterate will start downloading in 5 seconds...
STILL DOWNLOADING MANUALLY??
Join over 10 million players who use the CurseForge app!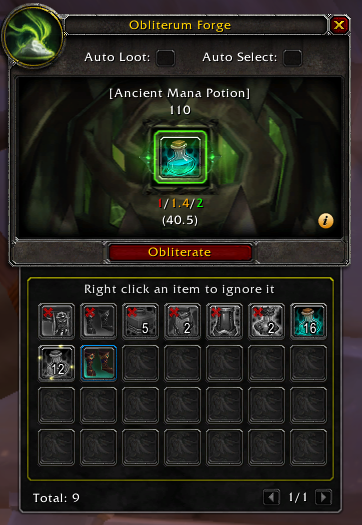 Easy Obliterate
Description
Easy Obliterate adds a frame to the Obliterate interface that shows you all items in your bags available for obliteration! It also adds ash information to tooltips once you've obliterated the item once. I made this because my bags are usually a mess and I didn't like having to search through it for eligible items.
The frame is updated automatically so you can keep the forge open while crafting new items to destroy. There's also an option to automatically loot the Obliterum Ash if you so desire. You can even have the addon automatically select the next item to obliterate for you!
If there's an item you do not want to obliterate, you can right click it to ignore it. This will prevent it from ever being obliterated. You can also automatically hide items that are used in one of your equipment sets.
If you want to bind a key to obliterate items you can do so under keybindings->AddOns->Easy Obliterate or make a macro with /click EasyObliterate
Appreciate hearing about any issues you might be having or if you have any suggestions!
Latest Major Changes:
- Fixed 2 issues that affected stat collection.
If you're using an addon that affects the looting process (for example AutoLootPlus) you will notice you're now getting an error message when Easy Obliterate can't register loot statistics. You can disable these in the settings.