Very simple addon to add ItemLevel to the item tooltip.
This addon adds the level of the item in the item tooltip. The item level is only displayed for the equippable items.
The item level is displayed in brackets after the name of the item.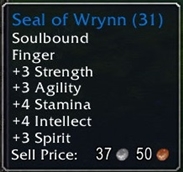 Changelog:
1.0.0 - Initial version of the addon.
1.0.1 - Fixed the problem that prevent this addon to work with non english clients.
1.0.2 - Fixed the error that the item level was added to the line "Currently Equipped" instead of the item name in the comparison tooltip.