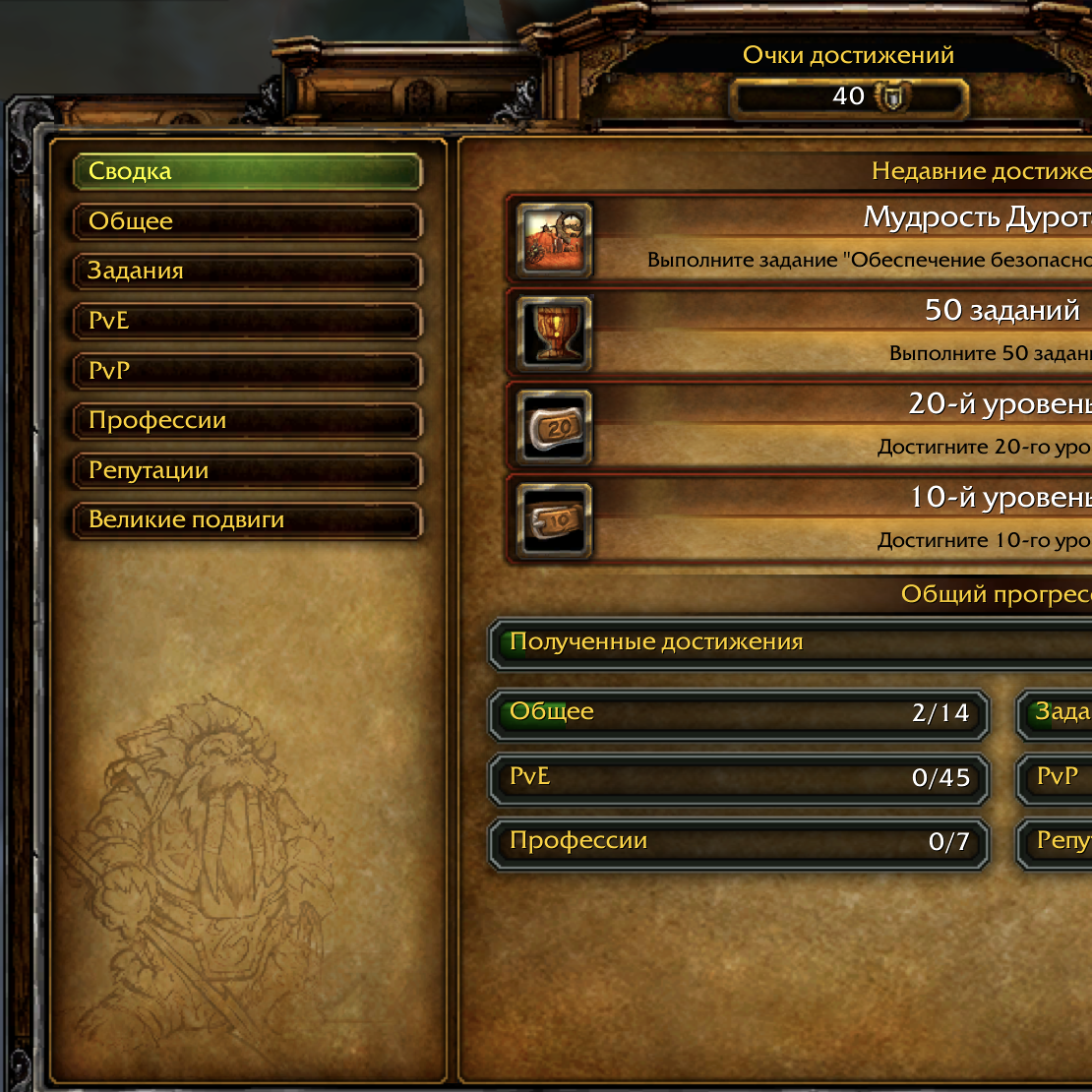 Classic Achievements
Description
Overview
Classic Achievements is an addon that introduces achievements into the world of WoW Classic! Achievements are character-based and as for now there is a meager amount of them, but I'll try to find a bit of free time and add more :)
Install an addon and its dependencies and you'll be able to start earning sweet achievements! You can access the achievements window by clicking an addon button next to the quest log button in your micro menu.
Features
This addon is not an official addition to the game (at least at the state of Classic), so all achievements are manually scripted by hands. Currently there're not much of them, but I'd say what this addon currently offers is a good start :)
So, as for now, you can earn achievements, share your progression via chat and compare it against other players. Guild and statistics tabs are not supported yet.
Has an integration with DBM: whether you have any boss kills saved in your DBM statistics, they will count for achievements. Unfortunately, this will work only when DBM modules are loaded, so you have 2 opportunities to do so: enable them manually in /dbm just for a single time to retrieve achievements or do nothing and just wait until you get to the raid instances themselves, where DBM will load it's modules automatically.
There is also a 'count already explored map areas' button in the options section: didn't automate that process because of lag occurring during it.
Supported languages
As for now it only supports Russian, English, and French languages. If your client's language is different, it's still ok, but profession-related achievements won't work.
Post Scriptum
Please, leave your feedback via comments or issues on CurseForge: both reports and suggestions are really appreciated. You can also help in translation on errors fixing :)
There is also a discord server for feedback and with some additional information: https://discord.gg/BaaMCJ6xqd.
А теперь на русском
Classic Achievements - аддон, добавляющий достижения в мир WoW Classic.
Установить аддон можно двумя способами:
(1) С использованием клиента CurseForge, тогда никаких дополнительных шагов не требуется.
(2) Вручную: тогда необходимо установить и все зависимости аддона, которые можно найти во вкладке Relations выше (необходимы лишь required dependencies).
Аддон получает от сервера все данные, которые может получить, чтобы автоматически засчитать уже полученные вами достижения. Тем не менее, многие данные (как, например, количество убитых монстров) получить нельзя, и такие достижения придется выполнять с самого начала. Тем не менее, имеется интеграция с DBM, чтобы засчитать уже одоленных вами противников в обычных и рейдовых подземельях. Чтобы задействовать интеграцию, просто войдите в подземелье, и, при загрузке модуля DBM, всё произойдет само собой. Если это не вариант, можете ввести в чате команду /dbm и загрузить все его модули вручную.
Доступ к аддону можно получить через кнопку, появившуясь в микроменю (панель, где находятся кнопки о вашем персонаже, списке заданий, карте и т.д.) после установки аддона. К сожалению, расположение кнопки в этом меню может ломать интерфейс при использовании аддонов, его модифицирующих, хотя полу-живая интеграция с ElvUI и Bartender4 все-таки существует. Если это ваш случай, перейдите в настройки аддона и отключите кнопку в микро меню. После этого необходимо перезайти на персонажа или прописать /reload, и иконка аддона переместится к вашей миникарте.
Отключить сообщения о получаемых достижениях в чат также можно в настройках. Чтобы в них перейти, нажмите правой кнопкой мыши по иконке аддона или перейдите в Esc -> Интерфейс -> Модификации -> Classic Achievements.
По всем дополнительным вопросам, отзывам и с предложениями можно обратиться в наш дискорд: https://discord.gg/BaaMCJ6xqd.