Starfield High Definition Texture Pack (HDTP) will start downloading in 5 seconds...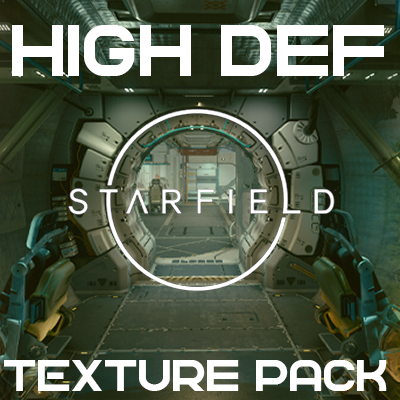 Starfield High Definition Texture Pack (HDTP)
Description
The High Definition Texture Pack for Starfield is a higher resolution upscaled set of texture packs, designed to completely replace and overhaul ALL of the original/vanilla textures. HDTP is built using a combination of AI models, including models built specifically from previous Bethesda Games, AI models trained on hundreds of professional game textures created by the author, compositing of multiple cherry picked variations, images provided by NASA, then carefully touched up by hand. HDTP combines AI technology, human creativity, and space photography using a one of a kind highly advanced processing system to create the best quality texture packs possible from dozens of possibilities. All textures are currently being upscaled to 2X the original size. In most cases this upscales the standard 2K textures into 4K versions of them, but many are 8K or higher.
!!! THIS IS A WORK IN PROGRESS !!!
If you would like to download the mod to try it out, please feel free to do so. Keep in mind that this is NOT finished yet.
The primary purpose for releasing this already is to get feedback and allow users the chance to try higher resolution textures.
Please make sure to read the FAQ! No, really!
Looking for faster download speeds? We have more mirrors available on the
Discord
!
With ♥️ from Epiphany and the HDTP team!
Please remember to 👍 endorse and ⭐ vote for HDTP!
BEFORE YOU START: If this is your first time installing mods or modifying files in your %userprofile%\Documents\My
Games\Starfield directory you absolutely should make a backup! In fact, it's a good habit to always make a backup
before making changes!


Instructions

To provide faster loading and less VRAM use I have started packing the files into BA2 V3 files.
The packs have been separated into Level 1 and Level 2 options. Level 1 is designed to be usable for more
GPUs while Level 2 is for high end GPUs with more than 12GB of VRAM.

Other installation methods can be found on the Documents tab!


VORTEX INSTALL

Step 1
Install the selected packs with the mod manager and allow the installation to complete.
You will be greeted with a FOMod installer asking you to pick the mod manager you use.
You must select Vortex for the mod to install properly.
Select if you would like to install Level 2 textures or not. The explanation for this
is included in the mod installer.

Where do the BA2 files go?
BA2 files should be installed to the Steam Games "Data" directory when being added to Starfield.ini
BA2 files should be installed to the My Games "Data" directory when being added to StarfieldCustom.ini

You should use only one method or the other!

=====================
Step 2
You must now edit the My Games\Starfield\StarfieldCustom.ini file usually.

Edit the following under the [Archive] section, replacing any existing
'

sResourceIndexFileList

' ensuring there is only one:
sResourceIndexFileList=Starfield - LODTextures.ba2, Starfield -
Textures01.ba2, Starfield - Textures02.ba2, Starfield - Textures03.ba2,
Starfield - Textures04.ba2, Starfield - Textures05.ba2, Starfield -
Textures06.ba2, Starfield - Textures07.ba2, Starfield - Textures08.ba2,
Starfield - Textures09.ba2, Starfield - Textures10.ba2, Starfield -
Textures11.ba2, Starfield - TexturesPatch.ba2

Step 3
Separated by a comma then a space, list the files from this mod you wish to use and
add them to the list from step 2.


NOTE: We will use the Ice and Volcanic pack as an example here, but you should use the BA2
files that came with the pack(s) you are installing.

To use both Level 1 and Level 2 packs you will add:
HDTP - Landscape - Ice and Volcanic L1.ba2, HDTP - Landscape - Ice and Volcanic L2.ba2


You can choose to use just Level 1 or both Level 1 and 2. Using Level 2 alone is not recommended.

If you chose to use just Level 1, the final line will look like:
sResourceIndexFileList=Starfield - LODTextures.ba2, Starfield -
Textures01.ba2, Starfield - Textures02.ba2, Starfield - Textures03.ba2,
Starfield - Textures04.ba2, Starfield - Textures05.ba2, Starfield -
Textures06.ba2, Starfield - Textures07.ba2, Starfield - Textures08.ba2,
Starfield - Textures09.ba2, Starfield - Textures10.ba2, Starfield -
Textures11.ba2, Starfield - TexturesPatch.ba2, HDTP - Landscape - Ice
and Volcanic L1.ba2


If you chose to use both, the final line will look like:
sResourceIndexFileList=Starfield - LODTextures.ba2, Starfield -
Textures01.ba2, Starfield - Textures02.ba2, Starfield - Textures03.ba2,
Starfield - Textures04.ba2, Starfield - Textures05.ba2, Starfield -
Textures06.ba2, Starfield - Textures07.ba2, Starfield - Textures08.ba2,
Starfield - Textures09.ba2, Starfield - Textures10.ba2, Starfield -
Textures11.ba2, Starfield - TexturesPatch.ba2, HDTP - Landscape - Ice
and Volcanic L1.ba2, HDTP - Landscape - Ice and Volcanic L2.ba2


If you have other packs/mods installed that use the same method to load files you may have
other files listed here as well. That is normal and expected. You don't need to and shouldn't
remove them unless you inted to remove them from your game. Simply add any HDTP packs you
want to use to the end of the list of files, including other mods, like above.


Assets Currently Handled

✔️ Actors - Complete
✔️ Architecture - Complete

City, Concrete, Generic, Industrial, Landmarks, Outpost Mine, Outpost, Science, Spaceport, Space Station, Starborn, Structural, Terrabrew
✔️ Clothes - NPCs - 100% Complete
Akila Child Bomber Jacket Outfit, Akila Child Jacket Pants Boots Outfit, Akila Child Jacket Pants Outfit, Akila Child Jumpsuit Outfit, Fashionable Male Business Suit Outfit, Civilian Formal Half Dress Outfit, Civilian Formal Shirt Slacks Outfit, Civilian Rubber Pocket Pants Outfit, Collector Outfit, Colonist Adventurous Poncho Outfit, Colonist Beaded Collared Shirt Outfit, Colonist croppedvest Outfit, Colonist Quarterpaddedvest Outfit, Crowd Akila Jacket Boots Outfit, Crowd Akila Jeans Long Sleeve Shirt Outfit, Crowd Akila Short Sleeve Jacket Outfit, Crowd collaredshirtvest Outfit, Crowd hats Outfit, Crowd Jacketed Outfit, Crowd Layered Tee Outfit, Crowd Long Sleeved Outfit, Crowd Neon Blouse and Skirt Outfit, Crowd Neon Catsuit Outfit, Crowd Neon Fashion Outfit, Crowd Neon Fashion Outfit, Crowd Neon Fishing Gear Outfit, Crowd Neon Jumpsuit Outfit, Crowd Neon Rainwear Outfit, Crowd Neon Tracksuit Outfit, Crowd Neon Windbreaker Outfit, Crowd Sleeved Dress Outfit, Crowd Sweater Outfit, Employee Uniform Formal Outfit, Farmer Outfit, Fishworker Outfit, Hazmat Suit Outfit, Medical Doctor Outfit, Miner Jumpsuit Outfit, Miner Utililty Suit Outfit, Monster Costume Outfit, Neon Business Suit Outfit, Neon Business Suit Outfit, Neon Entertainer Outfit, Neon Nightlife Jumpsuit Outfit, Neon Nightlife Skirt Outfit, New Atlantis Child Cargo Pants Boots Outfit, New Atlantis Child Long Sleeve Pants Outfit, New Atlantis Child Overalls Outfit, New Atlantis Child Windbreaker Outfit, Outfit Ajun, Outfit Amani Renas, Outfit Azami, Outfit Barrett, Outfit Baseball Cap, Outfit Capesuit, Outfit Child Coracoe, Outfit Delgado, Outfit Dress Sari, Outfit Earhart, Outfit Eyepatch, Outfit Genware, Outfit Khan, Outfit Masako, Outfit Mei Devine, Outfit Naeva, Outfit Neuroamp, Outfit Nightwear, Outfit Noel, Outfit Ranger, Outfit Roosevelt, Outfit Ryujin Lab Worker, Outfit Sam, Outfit Sarah, Outfit Shinyavoss, Outfit Stealth, Outfit Varuun Ambassador, Outfit Vladimir, Outfit Walter, Outfit Worker Jumpsuit
✔️ Clothes - Military Spacesuits - 100% Complete
Outfit Akila Security, Outfit Crimson Fleet Captain, Outfit Crimson Fleet Spacepirate, Outfit Crowd Akila Cargo Pants Vest, Outfit Crowd Akila Cargo Pants Boots, Outfit Crowd Akila Fatigues, Outfit First Mech Pilot, Outfit First Mercenary, Outfit Flight Suit, Outfit Freestar Militia, Outfit Gang Disciples, Outfit Gang Strikers, Outfit Prisoner Scrubs, Outfit Ryujin Business Suit Executive, Outfit Ryujin Business Suit Executive, Outfit Ryujin Business Suit Manager, Outfit Ryujin Business Suit Manager, Outfit Ryujin Business Suit Worker, Outfit Ryujin Business Suit Worker, Outfit Sanctum Priest, Outfit Science Lab Tec, Outfit Security Guard, Outfit Service Uniform, Outfit Ship Captain, Outfit Trucker Ashirt, Outfit Trucker Flannel, Outfit Trucker Long Sleeve, Outfit Trucker Tee, Outfit UC Navy, Outfit UC Police, Outfit UC Navy Crew Uniform, Outfit UC Navy Officer, Outfit Utility Overalls,
Pirateset Spacesuit, Spacesuit Assault, Spacesuit Bounty Hunter, Spacesuit Bounty Hunter, Spacesuit Child Explorer, Spacesuit Constellation, Spacesuit Diver, Spacesuit Ecliptic, Spacesuit Explorer, Spacesuit Ground Crew, Spacesuit Mantis, Spacesuit Mercenary, Spacesuit Mercury, Spacesuit Miner, Spacesuit Navigator, Spacesuit Ranger, Spacesuit Recon, Spacesuit Space Trucker, Spacesuit Starborn, Spacesuit UC Marine, Spacesuit UC Pilot, Spacesuit Varuun, Suit Zero
✔️ Common - Complete

Ash, Ceramic, Concrete, Debris, Decal, Detail, Glass, Global Layer, Gore, Grunge, Hazard, Landscape, Mask, Metal, Paint, Plastic, Rubber, Skin, Starborn, Stone, Textile, Trim, Wood
✔️ Decals - Complete

Ash, Azami, Blood, Circit Board, Clawmarks, Concrete, Cracks, Cydonia Set, Droppings, Factions, Flora, Graffiti, Graphics, Ground, Grunge, Handprints, Impact Decals, Logos, Puddles, Quest, Scratches, Signage, Stains, Stencil, Subtle, Terrormorph Slashes, Warnings, Wetness

✔️ Gobos - Complete

All shadows and lights

➖ Landscape - Cliffs and Caves - Progress

Arches, Bonescapes, Caves, Cliffs, Crystalline Formations
➖ Landscape - Flora and More - Progress

Flora, Fungus, Grass, Ground Cover, Leaves, Moss, Vines, Plants
➖ Landscape - Ice and Volcanic - Progress

Ice, Snow, Sulfur, Volcanic
➖ Landscape - Rocks and Soils - Progress

Dirt, Gravel, Man-made, Rock, Rock Wall, Sand
✔️
LODs - 100% Complete

Replaces vanilla "Starfield - LODTextures.ba2"
✔️ Planets - 100% Complete
✔️ Set Dressing - 100% Complete

Includes: Ads and Signs, Cargo and Containers, Deco, Locations: Akila, Astral Lounge, Casino, Earth, Galbank, Hopetown, Infinity Ltd, Juno, Landmarks, Lodge, Neon, New Homestead, Niiraextm, Nishina, Outpost, Pitstop, Ryujin Tower, Tranquilitea, Volleyball Court

✔️ Ships - Complete
✔️ Skies - 100% Complete
✔️ Weapons - 100% Complete
Cryomine, Frag Grenade, Frag Mine, Gas Mine, Gutter, Impact Grenades, Incendiary Grenade, Inferno Mine, Regulator, Reticles, Space Mine, Tesla Mine, Inflictor Pistol, Kraken, M1911, Magshot, Novalight, Rattler, Razorback, Sidestar, Solstice, Stinger Pistol, Urban Eagle, AR99, Autorivet, Beowulf, Bullpup, David Wilson Rifle, Drumbeat, Hard Target, Inflictor Rifle, Kodama, Kore, Laser Rifle, Loredo, Maelstrom, Magpulse, Magshear, Orion Rifle, Russian Assault Rifle, Russian Hunting Rifle, Tombstone, Arc Welder, Big Bang, Breach, Bridger, Coachman Shotgun, Combatech Flamethrower, Laser Cutter, Magsniper, Magstorm, Microgun, Pacifier Shotgun, Pump Shotgun, Rocket Launcher, Shotty
Q. You say 2X upscale, does that make this a 2k, 4k, 8k... pack?
A. Starfield doesn't use a uniform texture size like some older games did. Everything isn't all 1024x1024 or 2048x2048. Some are 1024x512, or even 1024x2048. We are selectively upscaling things using a 2x upscale in both dimensions. This means that textures have
4 times the texture space
when we process them. I know, I didn't answer the question. You want the tl;dr - here it is: Most textures are upscaled to 4k since most are 2k to start with. Yes. we have higher resolution textures. Yes, we will release an even higher quality pack once we have an official full release of the 2x. :D
Q. Will this increase my VRAM usage?
A. Absolutely. Each pack you install will increase the amount of VRAM used as the texture space is four times that of the vanilla textures. HDTP has, however, been designed to be as optimized as possible. As HDTP is converted to BA2 it is much more efficient, and I suggest 12GB GPUs for a full installation of Level 1 textures and 16GB GPUs for full (both Level 1 and Level 2) installation. Loose files are still highly inefficient compared to the BA2 packages and will consume more VRAM. I strongly advise
against
the use of loose files now that modding tools for BA2 packaging are available.
Q. I heard BA2 files cause stuttering and loose files are better, is that true?
A. Not in the dozens hours of testing my team and I have done now. We found zero drawbacks to the way we pack BA2 files. If you are experiencing stuttering when using BA2 files it is likely they were packed incorrectly. Loose files, however, have proven time and again to be slower to load and use twice the VRAM due to an engine bug that loads the highest detail versions and doesn't release the vanilla textures - this is
exactly why
HDTP is released in BA2 format.
Q. Why is HDTP so much bigger than all of the other texture packs?
A. HDTP is intended to replace every texture in the game with a higher quality version. So any texture pack that focuses on just one or a few things will never come close to the size of HDTP. Some texture packs also only include a few of the materials that Starfield uses, HDTP includes every texture possible. Finally, HDTP is a 2x upscale which is 4k in most cases. You can place it between 4k and 8k packs since HDTP is upscaled by a factor of 2. HDTP doesn't upscale everything to 4k or 8k because it would be wasteful and inefficient - you wouldn't even know many textures had been upscaled. HDTP also upscales materials such as opacity, roughness, occlusion, metal, and more. Just upscaling the color or normals may look a bit better than the defaults, but the edges of leaves will be fuzzy, reflections and shadows will still be lower quality, etc. Many mods claim they cover all textures in Starfield with counts like 40,000 or 60,000 files. Starfield has over 100k textures and anything less is not covering "all of the textures" in Starfield. By upscaling ALL of the materials, HDTP can give the best quality.
Q. What model are you using currently?
A. This question has a number of answers. We use a model trained on Skyrim with 40,000 iterations, a custom model trained on 40,000 Fallout textures with 400,000 iterations, a specialized skin model created by myself, LSDIR, BSRGAN, DEDXT, and a number of other AI models. A variety of tools are used but the primary upscale functionality was built specifically for HDTP and doesn't exist anywhere else in the world. This is the process that allows me to iterate and improve so quickly - hours instead of weeks like most AI upscales. Some mods use the base ESRGAN models which are barely suitable for photo upscales, let alone textures. HDTP uses customized models for all upscales, not general purpose models. Custom models like those used by HDTP will have better quality than general purpose upscalers 100% of the time. HDTP also uses a compositing process that has 6 AI models compete for the best quality, which are then composited together to get the best quality that simply isn't possible from a direct AI upscale. ESRGAN is not used for any detailed textures as it is extremely low quality and outdated compared to all of the models I use, and simply does not provide even a fraction of the detail the bespoke models I've trained can do.
Q. Are all of the textures upscaled by AI or do you adjust them?
A. The textures are created by having 6-8 (previously 3-5) AI models "compete" for the best visual quality. In some cases multiple upscaled images will be composited (combined) to provide an even better appearance, taking only the best from each one. This let's me create packs with increasing quality every release. When a texture needs manual modification I will use industry standard tools (ZBrush, Photoshop, etc) to improve the textures while staying true to the original design and vision. In some cases NASA originals are used to replace the compressed BGS versions rather than upscale as the original data exists.
Q. Could you pack the mod into one big file?
A. Packing all of the HDTP textures into a single file would make an over 130gb file currently. Nexus simply will not let me upload that big of a file. There are mirrors available on my Discord if Nexus speeds are too slow. :)
Q. I see oily black or bring pink/magenta textures! What happened?!
A. This is one of two things in almost every single case: 1) The vanilla texture files (BA2) have been removed from the INI. 2) There is an invalid character in the INI causing the information in it to not be processed properly. In both cases you will need to check your INI and verify that it is free of bad characters and that the necessary vanilla textures are loaded BEFORE all mods. Please visit the discord to get up to date information on which (if any) vanilla textures can be disabled.
Q. I get blurry textures, low FPS, or stuttering after installing this mod!
A. We've found that due to the way Starfield handles VRAM limits when trying to include more textures it may sometimes reduce the mip level of the texture sent to the GPU. This results in blurry textures for those objects. This may not explain every occurrence of blurry textures, but it is the most common we have seen so far.
From wessberg:
"If you see your VRAM usage hover around something like ~300-500mb below your total allocatable VRAM buffer and your game is stuttering and/or loading in lower quality mip maps (e.g. you're seeing blurry, low resolution textures), that is an indication that you need to remove a few of these texture packs. In practice you'll need an absolute ton of VRAM to run the game in busy locations with some of our heavier packs active. I'm on a 16GB VRAM GPU and have to be extremely picky with which packs I allow on my installation.

You might be inclined to look at your VRAM usage and think it looks like you're in the clear, but really what's going on is that the game has at one point exceeded that buffer and is now continuously swapping in/out textures of that buffer in system memory, which produces stuttering. Or, it might have settled on using LOD textures and prioritizing a stable frame rate, but that will cause your game to look very blurry.

That means, for 10GB GPUs such as the 3080 you might see your VRAM usage hover somewhere around 9.5GB and think you're in the clear. You're not. Or on a 6GB VRAM GPU, you might see it hovering around 5.7GB. Same thing."
Q. How do I uninstall the mod?
A. Well... since they are loose files at the moment, right now you need to delete them all.
If
you don't have other mods in the same directories (landscape for Landscapes and ships for Ships...) you can simply delete those from the My Games\Starfield\Data\Textures folder. It's much more tricky for the time being if you have other mods installed to the same folders. Yes, we are working on BA2 packs for when we are able to load them easily. 😁
Q. Who are you?? I feel like I know your name...
A. You might! I've been making mods for Skyrim, Fallout, and other games as part of other teams for over a decade. I decided it was time to lead my own team/projects, and started with HDTP as my first big release as the team lead.
Want to discuss the mod? Questions about future plans? Want the answer to all things, life, and the galaxy? Okay maybe not that last one.
Join the
Discord
and chat with the team!
Epiphany Absolute - Author/AI Dev and Training/Asset Generation/Packaging/Graphic Design

Special thanks to:
The Community Helpers on the Epiphany Absolute Creations Discord - for helping every day!
wessberg - for helping with the first batch of upscales and advising on textures
Geeknasty - for advising on texture compression and format at the start
... and you, just for being you! ♥️
Some images are courtesy of the
NASA Earth Observing System
Project Science Office.
My other mods:
Kawaii Face Visor for Ground Crew Helmet
Weyland-Yutani Ground Crew Helmet
Ground Crew Spacesuit Helmet Skull Visor