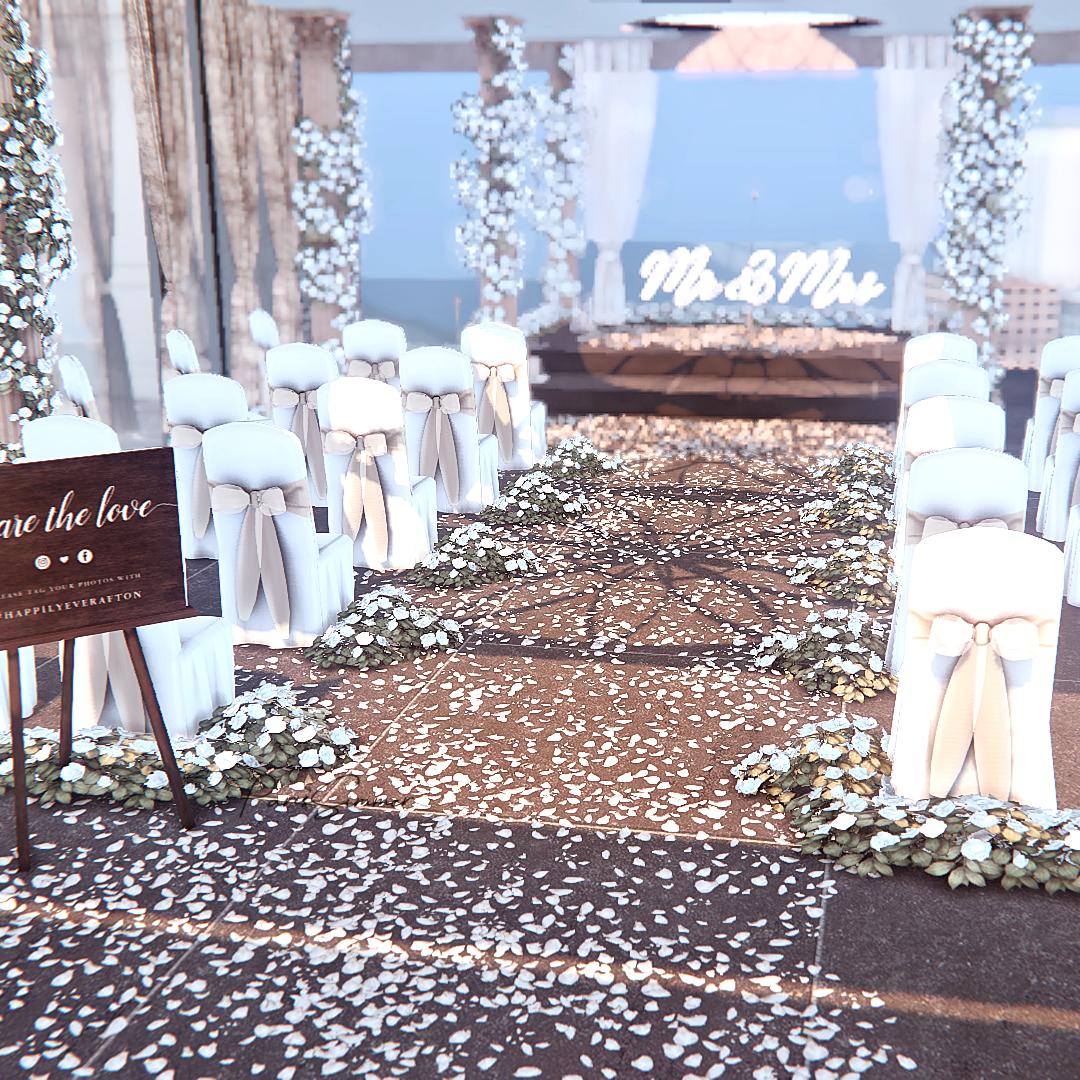 (ParisSimmer) - La Plume d'Or wedding venue (CC)
Description
Lot Information :
Size : 40x30 / Lot Type : Generic / Price : 716 732
In game I placed in San Myshuno on the Torendi Tower Penthouse (Fashion District)
Packs needed : City Living, Dine Out (I filled a kitchen if you want to use for gameplay), Spa Day (for a few mirrors), Get Famous, Discover University (I think it was only for the mailbox).
The lot was created mainly to take pictures but it is possible to use for gameplay as a wedding venue or restaurant, just change the lot type and don't download the clutter items (and add what is required for restaurant).

In the list you will find the exact items needed for the build, I have precised which one you need if it's in a set, so you don't have to add the whole set if you don't want to.
CC List
Syboubou - Aquarium Aquarium Built In Full Wall
Syboubou - Aurore Medium Long Windows 1x1 and 2x1
Syboubou - Delphine Sink and Toilet
Syboubou - Elevare Minimalist Glass Fence and Raw Edge Modern Stairs
Syboubou - Haussmann Double and Single Doors Medium
Syboubou - Imperium Concrete Platform and Spandrel
Syboubou - Ohlala Stool, Shelves, Floor Light, Bar, Chandelier, Room Divider and Semicircle Panel
Syboubou - Paradis Iron Oval Railing
Syboubou - Pour Toujours Petals, Microphone, Round Table, Torch, Wedding Topper
Syboubou - Rideaux Drapes Velvet Left and Right Medium, Straight Velvet Medium and Centered Tied Velvet Medium
Syboubou - Secare Classic Dome, Rose Skylight and Panelled Glazed Industrial Arch
Syboubou - Shopping Changing room open and closed, clothing rack, display large seat, display small, jewelry display, jewelry display bust, mannequin, mirror, retail counter, shoebox open, sofa
Syboubou - Tiphaine Lantern
Severinka - Alisa Desk Chair - Sandra Ceiling Lamp
PixelPlayground - Ostrich Feather Stand Short
PralineSims - Marble Tiles
Kerrigan House - Hurricane Candles
JomSims - The Wedding Cake Set 2 Cake 1 & 2 Pastel Colors
Aggressive Kitty - Wedding Sign and Wedding Sign Small
Asteria Sims - Piano Steinway and sons
KM Creations - Balloons Tower
Simenapule - Concrete Tiles
Strange Story Teller - Macaron Stand
AmoeBae - Solid All Square Panel Walls
Space Sims - Aphrodite Wedding Chair
Felixandre - Corinthian Columns 4m
MsTeaQueen - Luna Rose Bushes
Deco Clutter (don't download these if you want the lot for gameplay) :
Syboubou - New Year Champagne Bucket, Flute and Confettis
Wondymoon - Iron Place Setting
Skeamor - Mini Champagne With A Straw
Natalia Auditore - Champagne Bottle
Kerrigan House - Midinvaerne Plates
Optional Deco Sims :
Royal Norman - Ceilist and Pianist Deco Sims
Devyn Sims Chronicles - Flawless Function Sims V1 and V2 Merged